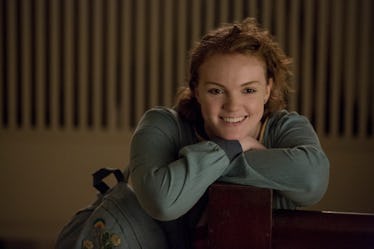 Fans Have One Questions About Shannon Purser After Watching 'Sierra Burgess Is A Loser'
Aaron Epstein / Netflix
If Sierra Burgess Is a Loser isn't on your radar, get access to Netflix immediately. The new teen rom-com debuted on Friday, Sept. 7 and it's already becoming one of the genre's most buzzed-about latest additions. The film follows Shannon Purser (Stranger Things' Barb and Riverdale's Ethel) as an insecure high schooler who poses as a popular cheerleader via intimate phone convos to win over a charismatic jock. The film features an original song recorded by her character, but does Shannon Purser really sing in Sierra Burgess Is a Loser? Sierra's voice is off-the-charts impressive, so fans are curious to know if Shannon's actually the person behind it.
It turns out you can add singer to Shannon Purser's resume because that's indeed her crooning the beautiful track "Sunflower" in the movie. But much like her insecure character Sierra, she had her own reservations about taking on the intimidating job of lending her voice to the film.
"I've been singing and doing musical theater since I was younger," the actress revealed to Bustle. "I love to sing; it's a big part of my life. But [Sierra Burgess Is a Loser] was the first time I got to sing on camera. It was definitely a little scary at first, but just a really great experience."
Shannon may have had hesitations about singing, but her musical contribution pays off. "Sunflower" illustrates a metaphor for self-acceptance that plays a poignant role in the film. Plus, Purser sounds fantastic on the track so it's hard to imagine anyone else doing it as much justice. Sierra Burgess Is a Loser isn't the first project where Shannon Purser has showcased her singing talent. If you had any doubts that the Emmy-nominated performer (#JusiceForBarb, y'all) has vocal chops, look no further than the Frank Ocean cover she posted on Twitter last year. Shannon also exercised her pipes in NBC's Rise belting a stunning version of Fun.'s "Carry On."
There's other reasons aside from Shannon that make the Sierra Burgess Is a Loser soundtrack worth listening to. Troye Sivan — the talented artist behind 2017's smash "My My My!" and the catchy "Dance to This" featuring Ariana Grande — co-wrote "Sunflower" and two other songs for the film. That includes a poppy new tune from Betty Who called "The Other Side." Disney Channel alum Sabrina Carpenter's "Lie For Love" is another catchy track that you probably won't be able to get enough of.
"I love to sing. I'm very grateful that the team was so cool, so easy to work with. Leland [the film's music producer] was amazing. He was guiding me through it and we were playing around with the song. I think it all turned out so beautifully. I think the score and the soundtrack for Sierra really add something special to it," Shannon explained to PopCrush about her experience working on the soundtrack.
Shannon Purser's star is definitely on the rise and fans won't be disappointed with her endearing performance as Sierra, as well as her brilliant musical stylings. If they're lucky, maybe she'll release more covers or original music in the future.
Sierra Burgess Is a Loser is currently available to stream on Netflix.