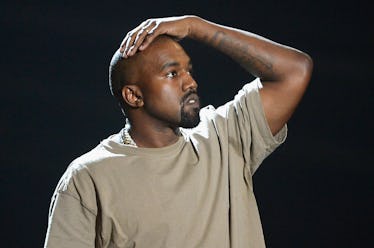 The Lyrics Of Kanye West's New Song Have Everyone Making The Same Joke
Kevork Djansezian/Getty Images Entertainment/Getty Images
In a moment many of us have been anticipating for what seems like ages, Kanye West finally released a new song on Friday, April 27 called "Lift Yourself." The lyrics of "Lift Yourself" by Kanye West are... a lot. And Twitter users have a lot to say.
Kanye's return to Twitter has been plagued with controversy, largely because of his proclamation of support for President Donald Trump. And tons of celebs have called him out over it. On April 23, radio host Ebro of Hot 97's Ebro in the Morning, who's a self-proclaimed fan of Kanye, said he spoke with the rapper following the triggering tweets — but apparently, the conversation didn't go so well. During his show, Ebro insisted Kanye lived in a bubble, especially because the artist had reportedly told him "I really love Donald Trump," which seriously infuriated fans.
As a result, on April 27, the "Heartless" rapper tweeted out a link to a song "with a verse that will bring Ebro the closure he's been seeking." And while many fans had high expectations for the track, what they received was completely unexpected. The end of the song features Kanye rapping, "whoopdedy-scoop. whoopdedy-whoop-scoop-poop," which caused quite a bit of chaos, confusion, shock, and straight-up laughter on social media.
Most people couldn't get over his "poop" chants.
"If Kanye had made just like three different decisions in the past week or so, he'd have all of us yelling POOP POOP! in the club without a second thought," one Twitter user wrote.
Others praised Kanye's levels of trolling.
Even Ebro shared a few words.
But the song is just one of Kanye's latest Twitter shenanigans, from his philosophical thoughts to his political rants. On April 25, he took to his page to shred President Barack Obama and praise Trump in a series of tweets, calling the president his "brother" and saying "the mob can't make me not love him."
"You don't have to agree with trump but the mob can't make me not love him. We are both dragon energy. He is my brother," West tweeted. "I love everyone. I don't agree with everything anyone does. That's what makes us individuals. And we have the right to independent thought."
He went on to say that he also loves Trump's former opponent in the 2016 presidential election, Hillary Clinton, but added that, "I'm not even political. I'm not a democrat or a republican."
Whatever you say, Mr. West.
While his tweets about his adoration from Trump have caused quite the stir, it's not the first time that he's shown his support for the president. In November 2016, after the presidential election, Kanye said that if he hadn't decided not to vote altogether, he would have voted for Trump. He said there were "a lot of things I actually liked about Trump's campaign," including that "his approach was f*cking genius — because it worked."
The following month, in December 2016, the rapper met with Trump in a closed-door meeting, which he later elaborated on in a series of tweets.
"I wanted to meet with Trump today to discuss multicultural issues," Kanye tweeted. "These issues included bullying, supporting teachers, modernizing curriculums, and violence in Chicago ... I feel it is important to have a direct line of communication with our future President if we truly want change."
At this point, I'm sure Kanye has caught Trump's attention with his tweets, so I'm curious to know if he heard the new single. I also really wanna know where this track goes, if anywhere at all. But if Trump could get into office with little political experience, there's no telling where Kanye and his poop-scoop song could go.