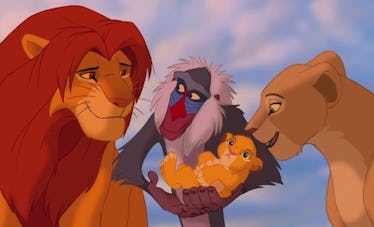 The First 'Lion King' Cast Photo Has Disney Fans Losing Their Minds Over How Perfect It Is
Disney
By now, you know that The Lion King is being rebooted for a 2019 release. And the cast is really shaping up to be incredible. Superstars like Beyoncé, Donald Glover, and Seth Rogen are all on board for the new live-action version of the film. While the news of a possible remake first hit the internet way back in 2016, it's only recently that the cast list has started to be filled out. And now, there's a photo to go along with some of the famous names attached to the project. This Lion King cast photo features only a handful of the film's stars, but I promise it'll make you super excited for the movie.
In the photo, which was posted to Instagram on Wednesday, Oct. 17, you can see Seth Rogen, Donald Glover, Billy Eichner, and Jon Favreau posing for the camera in a recording studio. Rogen posted the photo to his Instagram account and it definitely made die-hard fans of the film roar with excitement.
The highly anticipated Lion King remake will feature Rogen himself as Pumbaa, Glover as Simba, and Eichner as Timon. Favreau will direct the project, so it's in good hands. Although the film's other stars like Bey, James Earl Jones, and John Oliver weren't on hand for the behind-the-scenes photo, it's a great shot nonetheless. So, with all that said, here's your first look at who's behind the 2019 remake of The Lion King:
It's really happening, people! I don't know what it is about this photo, but it just kind of makes this whole thing seem a lot more tangible. I mean, they are literally in the studio right now making a new version of an iconic film! So exciting!
Given that the new Simba, Timon, and Pumbaa are all together in the studio, I guess that means they could be recording a little song called "Hakuna Matata," which just makes me even more nostalgic for the 1994 film. If that's the case, then these guys are bound to make an epic version of the song, especially with Glover (aka Childish Gambino) at the helm.
Glover has been attached to the project for quite some time. In fact, Favreau shared a photo of himself and Glover in December 2017.
Many fans assumed the caption "Simba returns!" meant that Glover's work on the new Simba had begun at the time. So, if that's the case, then Glover's been working on the new Lion King for quite a while now.
In addition to Glover, Rogen, and Eichner, Beyoncé has joined the cast as Nala, Chiwetel Ejiofor will take a turn as Scar, James Earl Jones will reprise his role as Mufasa, and John Oliver will take on the role of Zazu. So, all in all, the new Lion King will be a star-studded affair that fans simply can't wait to experience at the theater.
The film won't be released until July 2019, so there's plenty of time to brush up on your Lion King knowledge and familiarize yourself with all its incredible songs once again.