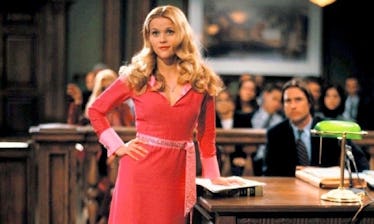 The 'Legally Blonde' Cast Then Vs. Now Will Get You So Excited For The Third Movie
Metro-Goldwyn-Mayer
I'm still trying to recover from the announcement of a third Legally Blonde movie being in the works, but ready or not, it's coming. We know close to nothing about this movie and its plot, and although Reese Witherspoon has happily confirmed her involvement, there's no word about any other original cast members returning. Until there's more news about who will join this cast, we'll have to rely on nostalgia to keep our excitement at bay. These photos of the Legally Blonde cast then vs. now will only get you more excited for the third movie and the possibility of them reuniting.
It's been more than fifteen years since Legally Blonde convinced me that you just needed confidence and a hot pink business suit to truly thrive in life. Its 2003 sequel, Legally Blonde 2: Red, White & Blonde, didn't quite make the same impact as the original film, but thanks to cable channels seemingly airing Legally Blonde every other night, fans can easily pretend that the magic of Elle Woods shone through in a perfect, standalone film.
However, with plenty of distance between then and now, I have high hopes for how entertaining Legally Blonde 3 could be. Is Elle touring colleges with her mini-me teen daughter (*cough* Ava Phillippe?) Is she still fighting against crime as a lawyer? Has Harvard asked her back as a visiting professor yet? So many possibilities.
Here's hoping that all of the first film's favorite faces will make an appearance in the new movie.
Reese Witherspoon (Elle Woods)
No surprise, but Witherspoon doesn't seem to have aged at all since her beloved role as the determined and fashionable Elle. She definitely has made her cinematic alter ego proud, working closely with the Time's Up movement and frequently adapting female-centric books for TV and film through her production company Hello Sunshine.
Of course, Witherspoon hasn't slowed down in the acting world either, appearing in the beloved Big Little Lies TV series and most recently popping up on the big screen in the Disney adaptation of A Wrinkle in Time. Snaps for productivity!
Luke Wilson (Emmett Richmond)
Wilson hasn't been in the spotlight as much his brother Owen is, but like Witherspoon, he seems to have found a fountain of youth somewhere. At the end of the Legally Blonde sequel, his Emmett got married to Elle, and I'm already imagining how well-dressed their genius children will be in the third movie.
Selma Blair (Vivian Kensington)
Despite becoming best friends with Elle by the time of their Harvard graduation, Blair's Vivian didn't appear in Red, White & Blonde. Seeing as she and Elle ultimately refused to let a man come between them, it only seems right for a #MeToo-era sequel to feature their friendship and the comeback of Vivian's headbands. We'll have to wait and see if Blair gives any clues about being involved in the new film.
Matthew Davis (Warner Huntington III)
Elle's ex-boyfriend also didn't appear in the original sequel, but the last we heard of him, he graduated school with no honors and no girlfriend. If the third movie involves a law school reunion, will Elle run into her old fling again? On behalf of spurned girlfriends everywhere, I hope Elle gets the opportunity to show Warner just how far she's come since the days of their relationship.
Victor Garber (Professor Callahan)
OK, so I'm pretty sure nobody actually wants to see Callahan in another movie, but viewers' dislike of him stems from a situation paralleling recent stories in the news. While working on a murder case together, Callahan made a sexual pass at Elle, who genuinely thought that she earned an internship position with him through her brains. The scenario sadly sounds way too familiar nowadays, so it would be interesting if a new movie somehow revisits Callahan or introduces a character with similar motives to deliver an important message.
Jennifer Coolidge (Paulette Bonafonté)
Along with Witherspoon and Wilson, Coolidge was the only original cast member to appear in Legally Blonde 2, so I have my fingers crossed for her appearance in the next film. Both Elle and Paulette repeatedly helped build each other up from their lowest points, and I'm all for seeing a trio of friendship that includes these two and Vivian in Legally Blonde 3.
Legally Blonde 3 will be in theaters on Feb. 14, 2020.