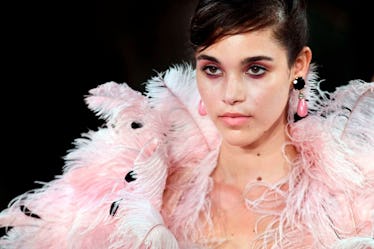 The 4 Beauty Trends You're Going To See Everywhere For Fall Are Totally DIYable
High fashion runways consistently serve up major creative inspiration from which the latest beauty trends are always derived, none more so than those at Paris haute couture fashion week. The fall 2018 iteration just took place, and as expected, the hair and makeup was especially outrageous. At couture shows, anything goes. It's a time for designers to pull out all of the stops, let their imaginations run wild, and create garments that are more like fine pieces of art than everyday attire. Of course, this creative liberty also applies to makeup and hair artists, so can imagine beauty looks can get pretty wild.
For example, if you have an Instagram account, then your feed was likely inundated with images of Kaia Gerber walking the Maison Valentino couture show. Her hair had been va-va-voomed into an Elvira-high style and it made major waves (no pun intended) on the internet. While it's unlikely that particular beauty move will permeate the mainstream (if you've ever tried teasing your hair to such great heights you know how hard it is), other trends that took to the Paris runways likely will. Yes, they're bold, but they're also totally DIY-able. Check them out below and give your favorite one a shot.
Back To Black
Black winged eyeliner is nothing new. But thanks to the makeup artists at Fendi, Viktor & Rolf, and Guo Pei (the designer behind Rihanna's infamous Met Gala pizza/omelette dress), it has gotten an incredibly abstract and graphic makeover. Rather than taking shape in simple cat eye style, wings now look more like tiny Kandinsky doodles than a standard makeup technique. At Fendi, thick blocky lines of black encircled the eye in winged shape from inside of the tear duct around to midway along the waterline, leaving a patch of unlined eye.
At Viktor & Rolf, thick and smudgey '90s style liner reigned supreme.
And at Guo Pei, angular interlocking lines turned eyelids into mini masterpieces.
Pony Up!
The classic ponytail got a literal twist — a few, actually — at couture week, with the most dramatic of the bunch being at Chanel, Dior, and Iris Van Herpen. If you want to give your classic updo a modern and head-turning update, this one's for you. At Chanel, ponytails got a rockabilly-meets-pinup twist thanks to the integration of victory rolls into the style.
At Dior, slicked back low ponytails were wrapped nearly to their tips with simple black string.
And at Iris Van Herpen, elastic string was used to bind small amounts of hair together, which were then split up into two and secured with new elastic, creating a net-like effect.
Rosy Disposition
Mermaid eyes (those swept with turquoises, blues, and greens) might be the shadow trend of summer 2018, but for fall it's all about the super sweet rosy hues, and lots of them. At Giorgio Armani Privé, Christophe Josse, and Ralph & Russo, bright pinks heavily clouded eyelids and were pulled around to line bottom waterlines. Giorgio Armani Privé paired its blush-swept eyes with black eyeliner for a bit more definition, while powder pink lips further added to the sugary look.
At Christophe Josse, a slightly lighter pink was dusted across lids, while lashes and waterlines remained void of any pigment. Highlighter shines bright from inner eyes and cupids bows.
And finally, at Ralph & Russo, red lips were paired with eyes swept with bright pink and bold purple hues. Slightly '80s in appearance, the look complemented the accompanying voluminous coiffe perfectly.
Et voila! Four stunning beauty trends straight off the Paris runways. No matter which one you choose to take to the streets, there's one thing for sure: You'll look très chic!