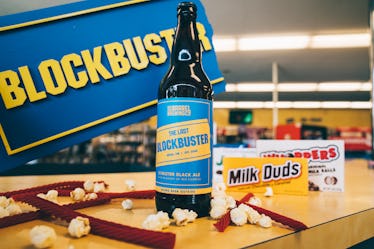 Blockbuster-Themed Beer Exists So You Can Have A Super Nostalgic Movie Night
Courtesy of 10 Barrel Brewing
Growing up, there was nothing like taking a trip to Blockbuster and picking out videos for a movie night. I remember scanning the aisles with my family, choosing my favorite candy boxes at the counter, and firing up the VHS player when we got home. Times were simpler back then, and I'm getting nostalgic just thinking about it. Luckily, Blockbuster has given '90s kids (like me) a new way to reminisce the good old days, and candy isn't exactly involved. Instead, beer is. The Last Blockbuster beer by 10 Barrel Brewing was created to honor the monumental video store that you know and love, and it's sure to put a boozy twist on your next movie night.
In case you're unaware, the last Blockbuster standing is currently located in Bend, Oregon. Unless you live under a rock, you've probably noticed that the rest of them slowly started disappearing after the company filed for bankruptcy in 2010. (It was sad, I know.) Thankfully, the Bend location is still running — and it'll soon offer more than just movies and candy. The lonesome Blockbuster recently teamed up with 10 Barrel Brewing to create a Blockbuster-themed beer called The Last Blockbuster, and it sounds like a '90s kid's dream. Plus, the packaging will make you feel nostalgic AF.
Before you book your trip to Oregon, you should know more details about the brew, which has an ABV of 5.7 percent. According to Chris Cox, the co-founder of 10 Barrel, The Last Blockbuster is a black ale that boasts "nuances of red licorice." Apparently, it's meant to pair with popcorn and chocolate, all thanks to its light body and smooth finish. I don't know about you, but I definitely wouldn't mind popping one of these bottles during my next movie night with friends. I love craft beer, sweet chocolate, buttery popcorn, and good films — so what is there to lose?
Well, there is one catch. In order to try the beer, you might have to do some traveling. The Last Blockbuster is making its big debut at a block party hosted by Blockbuster and 10 Barrel Brewing on Sept. 21. The party will be held at the Bend Blockbuster location, and will run from 6:30 p.m. to 9:30 p.m. The event page is urging guests to come by and "celebrate over three decades of film, memories, and classic summer blockbusters" over The Last Blockbuster beer.
If I lived in Oregon, I'd be there.
Oregon isn't the only place you can try The Last Blockbuster, though. The nostalgic beer will be served in 10 Barrel's brewpub locations for a limited time after the block party, according to the company. The six brewpub locations are as followed:
San Diego, California
Denver, Colorado
Boise, Idaho
Portland, Oregon
West Bend, Oregon
East Bend, Oregon
If you're not located in California, Colorado, Idaho, or Oregon, you might want to start planning your road trip. Something tells me that a Blockbuster-themed beer would be totally worth it.
However, keep in mind that The Last Blockbuster will only be available for a limited time at 10 Barrel's brewpub locations. That means you'll have to act fast if you want a boozy taste of nostalgia. Whether you try it or not, let's cheers to Blockbuster.