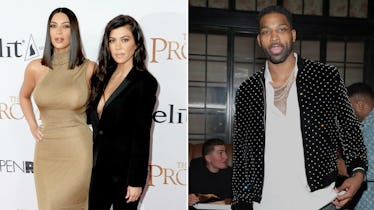 Here's How The Kardashians Feel About Tristan Thompson & Spoiler Alert, It's Real Bad
Frederick M. Brown/Cassidy Sparrow//Getty Images Entertainment/Getty Images
If you think that the Khloé Kardashian and Tristan Thompson saga has slowed down one bit, then you are sorely mistaken. After Tristan Thompson reportedly cheated on (a pregnant) Khloé with at least five women, she went into labor and had her daughter on Thursday, April 12. Elite Daily reached out to Kardashian and Thompson's teams about the cheating report but did not hear back by the time of publication. Needless to say, it's been a whirlwind for the Kardashians the last few weeks. And now, there are reports of the Kardashian's reactions to Tristan Thompson's cheating reports and you guys, it's not pretty.
According to E! News, Kardashian has appreciated her family being by her side throughout everything that has happened, and momager Kris Jenner has been particularly helpful, acting as a "buffer" between Kardashian, Thompson, and Thompson's family. A source said,
Kris really helped with the entire process and helped her remain calm and ease her mind ... Everyone has been very supportive and attentive.
Elite Daily reached out to Kardashian and Thompson's teams regarding the new E! report but did not hear back by the time of publication.
While the Kardashians are putting on a brave face for Khloé's sake, privately, they are reportedly livid with Thompson. The source said,
The Kardashian family has been very cold towards Tristan since the scandal broke. They aren't pleased with him at all and are heartbroken for Khloe. Everyone has remained civil this past week for the sake of the baby, but deep down they are all furious. They feel Tristan was deceitful and are ashamed that he was lying to all of them.
Eesh. The source also added, "Loyalty is huge in their family, and once the trust is lost, it's hard to get everyone on board again," adding that the entire family is fully in support of Kardashian and her daughter and "are only worried about making sure True is taken care of on all fronts. They are urging her [Khloé] to do what's best for True."
Good luck, Tristan. I would not want to get on any of the Kar-Jenner's bad sides... especially Kris.
Tell 'em.
But right now, it looks like Kardashian is less focused on what to do with Tristan Thompson, and more focused on simply enjoying and adoring her daughter, True.
On April 17, she took to Instagram for the first time since giving birth on to officially welcome her daughter into the world. In the photo was a room full of pretty pink balloons and flowers, and in her caption, she wrote,
Our little girl, True Thompson, has completely stolen our hearts and we are overwhelmed with LOVE. Such a blessing to welcome this angel into the family! Mommy and Daddy loooooove you True!
An inside source also told E! News earlier this week that Kardashian is absolutely loving motherhood and everything that comes with being a new mom. "Khloe is mesmerized and completely in love with the baby. All she's thinking about is caring for the baby and being positive," adding, "She hasn't made any decisions on what she's going to do regarding Tristan. She is overcome with emotion and can't think about anything other than the baby right now."
So, look. The entire Kardashian family might be up in arms about Tristan Thompson, but let's not forget the fact that it's Khloé's life, and she just gave birth to her first child and will undoubtedly do what's best for her family.
When you're a Kardashian, it's always loyalty above everything else, so I'm interested to see just where exactly this story goes. Who knows, maybe everyone will simply kiss and make up.
Unlikely, but hey, stranger things have happened.