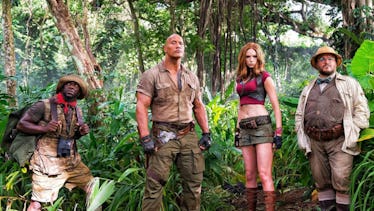 The 'Jumanji 2' Release Date Has Been Revealed & We'll Be Waiting A While For More Action
Sony
Can you smell the billion dollar blockbusters The Rock is cooking? Dwayne Johnson took to his Instagram (he's got over 100 million followers, so why not?) to share some exciting news: the Jumanji 2 release date. Following the massive success of Jumanji: Welcome to the Jungle, which hit theaters on December 5 of last year, fans had a hunch that a sequel was on the horizon. The follow-up is officially underway... but prepare to wait over year.
Johnson wrote on his social media announcement:
Officially planting our JUMANJI flag. On DECEMBER 13th, 2019 - the game is not over. I hold JUMANJI very close to my heart and I'm beyond grateful you made our movie into the global juggernaut ($1BILLION+) it became. Can't wait for you to see what our new adventure & new characters have in store as Christmas comes early. And once again, I get to slap @kevinhart4real's lip's into next week. The world is happy. #FearTheDrums#TheGameIsNotOver#JUMANJI DECEMBER 13th, 2019
This marks the third film in the Jumanji franchise. For those of you who weren't alive in the mid-90s, Welcome to the Jungle was a reboot/sequel hybrid of sorts of 1995's adventure fantasy Jumanji. Waiting over 20 years to produce its next installment clearly didn't hurt — Jumanji: Welcome to the Jungle became Sony's highest-grossing motion picture domestically of all time. With that kind of box office achievement, of course the game isn't over.
Jumanji 2 has yet to get a title, although I'm sure the creative powers that be will figure out something fun. Jumanji: Game Changer? Jumanji: Level 2? Jumanji: New Game Plus? (Call me, Hollywood.) The main cast is set to come back and includes Jack Black, Kevin Hart, Karen Gillan, and (duh) Dwayne Johnson. Welcome to the Jungle's Jake Kasdan (Sex Tape, Bad Teacher) will return to direct.
The plot details are slim so far, but some of the cast already weighed in on what they would like to see.
"I think it would be cool to see the mind behind the game," Jack Black stated in a cast conversation with Screen Rant last December.
Johnson elaborated on the concept, adding:
That was a cool thing when we were putting this thing together, developing the script, and we all felt like — first of all, the device - if it evolves from a board game then to a video game, then in the future it could be... who knows what it could be, right? So it's kind of like limitless where the entry can be.
Hey — the origin story idea is tried and true, and might work even if it's focusing on a magical video game.
Jumanji: Welcome to the Jungle apparently had alternate endings which could wind up being fuel for its sequel's narrative.
"In previous versions there was more of that where [Spencer] wanted to stay in the game with Martha. We made way more of that," Karen Gillan told The Hollywood Reporter. "It definitely could be interesting and would definitely leave it open to a sequel."
A sequel also opens the door to adding new actors in the mix, which could prove to be an exciting way to spice things up. Johnson already threw Michael B. Jordan and Chris Hemsworth's names out there, so here's hoping his dreams come true.
Nick Jonas additionally expressed interest in channeling a particular iconic performer.
"I don't know, I think there are so many ways to go about it," he told Screen Rant, when asked about his sequel hopes. "It'd be funny if another actor was the guy that I would be playing. Maybe someone really distinct, maybe like if Christopher Walken became my avatar."
Oh, the possibilities.
The next Jumanji film is slated to hit theaters December 13, 2019. Game ON.