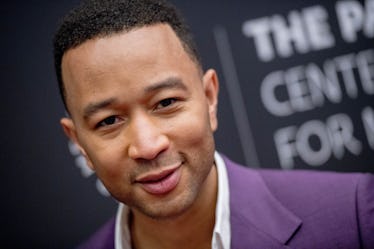 The 'Jesus Christ Superstar Live' Cast Is Going To Make Fans Very Hoppy This Easter
Roy Rochlin/Getty Images Entertainment/Getty Images
I haven't freaked over the cast for one of TV's live musicals since Hairspray, which was a highlight in this ever-growing list of televised shows. It had a perfect balance of highly recognizable stars and Broadway veterans to carry a beloved musical on live TV. When it comes to the casting of Easter Sunday's live NBC concert of Jesus Christ Superstar, the ensemble comes quite close to reaching Hairspray's level of potential success. Boasting a group of A-list musicians and Broadway actors, the Jesus Christ Superstar Live cast will definitely give theater fans something to look forward to this Easter.
Airing live on Sunday, April 1, from Brooklyn's Marcy Armory, Jesus Christ Superstar recounts the last seven days of Jesus Christ's life. Major events include the apostle Judas' betrayal of Jesus, Jesus' arrest, and his crucifixion and death on the cross. Composed by Phantom of the Opera composer Andrew Lloyd Webber, the entirely sung-through show first debuted on Broadway in 1971. A film adaptation premiered in 1973 and, in addition to various international productions, the show returned to Broadway in 1977, 2000, and 2012.
Although the musical has earned several Tony Award nominations over the years, none of its productions have ever won for a nominated category. Given its universal message and folky rock music, the live concert of Jesus Christ Superstar is bound to attract several generations of viewers.
Jesus Christ Superstar stars the Grammy-winning John Legend as Jesus, marking a distinct new venture in his primarily R&B career. While he hasn't starred in professional musical theater before, Legend isn't new to the world of Broadway, having produced the 2017 play Jitney and written music for SpongeBob SquarePants The Broadway Musical. Speaking to Playbill, Legend explained how the show's original material will be adapted for a modern audience:
Musically, we're going to stick pretty close to the original … but visually we want to update it and refresh it. The set design and costume design are all meant to connect the present to the past a little more.
Footage of Legend rehearsing shows him attempting a Superstar song's high note, and somewhere out there, a million fangirls are screaming in delight.
Joining him in the main cast is singer Sara Bareilles, fresh off a stint of playing the title role in the Broadway musical Waitress, which she composed herself. In Jesus Christ Superstar, Bareilles plays Mary Magdalene, who falls in love with Jesus over the course of the show. Da Vinci Code fans, has this concert caught your interest yet?
Admittedly, the show's musical stylings seem to fit Bareilles' voice perfectly, as seen in teaser footage of her performing the song "Everything's Alright."
For those viewers of a certain age, rock legend Alice Cooper will appear as King Herod, who tries to determine Jesus' divinity following the latter's arrest. Speaking to Billboard, Cooper shared how excited he was to perform on a live platform:
One of the guys said, 'Will that throw you off, having a live audience?' I'm like, 'What do you think I do every night?' I do rock theatrics in front of an audience, y'know? I'll probably [be] the only one comfortable there. Musical theater is pretty much what I've done for 50 years. I think it'll feel pretty natural.
The cast also includes several acclaimed Broadway actors in secondary roles. Tony nominees Brandon Victor Dixon, Ben Daniels, and Norm Lewis will play Judas, Pontius Pilate, and Caiaphas, while the ensemble is packed with past Broadway performers.
The involvement of such high-profile musicians and experienced actors has theater enthusiasts ready for the experimental show. For some, the simple casting of Legend and Bareilles is enough to convince them to watch on Easter night. I mean, same.
Jesus Christ Superstar Live in Concert airs at 8 p.m. ET on Sunday, April 1, on NBC.