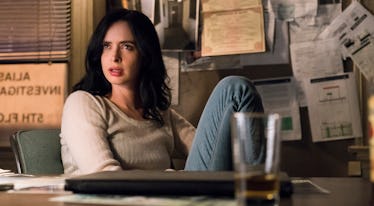 The 'Jessica Jones' Season 2 Trailer Is Here, So Prepare For More Badass Action
Netflix
The best Defender is finally almost back, and it's about time! It's been about a two and a half years since the first season of Jessica Jones debuted in 2015 — since then, Netflix has force-fed us standalone seasons for every other Marvel Defender when all we really wanted was to check back in on Jessica Jones. Like, I'm sorry; I know there were some people that liked Iron Fist and The Punisher, but to me they were really just things to slog through in order to get more Jessica Jones. And we've made it! The Jessica Jones Season 2 trailer is here, and it is a welcome reminder that we are only a couple weeks from a brand new season.
Unfortunately, the new trailer is predominantly reused footage from Season 1 of Jessica Jones, so we don't get to see a whole lot of new stuff, but there are a some interesting revelations about the upcoming second season. The biggest bit of new footage is right at the beginning of the trailer comes right at the start, as we see Jessica throw a ball against a wall while recounting her Superhero Tragic Backstory™ to a group of onlookers. We find right afterwards that is her anger management support group, which is likely court-mandated after her arrest at the end of Season 1.
The large amount of reused footage from Jessica Jones' past for the rest of the trailer suggests that Season 2 will probably be explicitly concerned with exploring her backstory. Honestly though, maybe the best part of the trailer dropping is just the reminder that Jessica Jones Season 2 is only about half a month away: the new season drops on Netflix on March 8. Check out the new Season 2 trailer for yourself below:
If you need a refresher on Jessica Jones before Season 2, the first season was concerned predominantly with Jones escaping her abusive relationship with Kilgrave, a villain with the ability to control minds. Jones had once been fully controlled by Kilgrave for years after he found out that she had super strength, but managed to break free from him and started a private detective agency in New York City. She still maintained PTSD from the violent crimes that Kilgrave would force her to commit, as well as his sexual assault against her, and she numbed her pain through heavy alcoholism.
The first season of Jessica Jones also introduced Jones' adoptive sister and best friend Trish Walker, high-powered lawyer and work friend Jeri Hogarth, and drug-addled neighbor Malcolm Ducasse. Kilgrave used his powers to control each of these close friends at various times in order to try to get Jessica back, but in the end, she is able to fool him into thinking that his powers began working on him again in order to get close enough to snap his neck.
But although we see Jessica kill Kilgrave at the end of the season, David Tenant is confirmed to reprise the role in Season 2, and Netflix's production still of the new season show Kilgrave is back to torturing Jessica. So, did he come back to life or something? Well, more likely, Kilgrave will only exist in flashbacks or as some sort of incorporeal voice inside Jessica's head. Then again, Marvel is known to bring dead characters back to life quite a bit, so who knows.
The other unsolved thread from Season 1 of Jessica Jones was how Jones got her powers. Trish Walker uncovers a file detailing a company called IGH at the end of the season, and learns that the mysterious company paid for Jones' medical bill after her parents' fatal car crash when she was a child, shortly after which she gained her powers. Since Trish hasn't done anything with this info yet, we can bet that it will probably play a large part in the plot of Season 2.
Jessica Jones Season 2 will premiere on Netflix on Thursday, March 8.