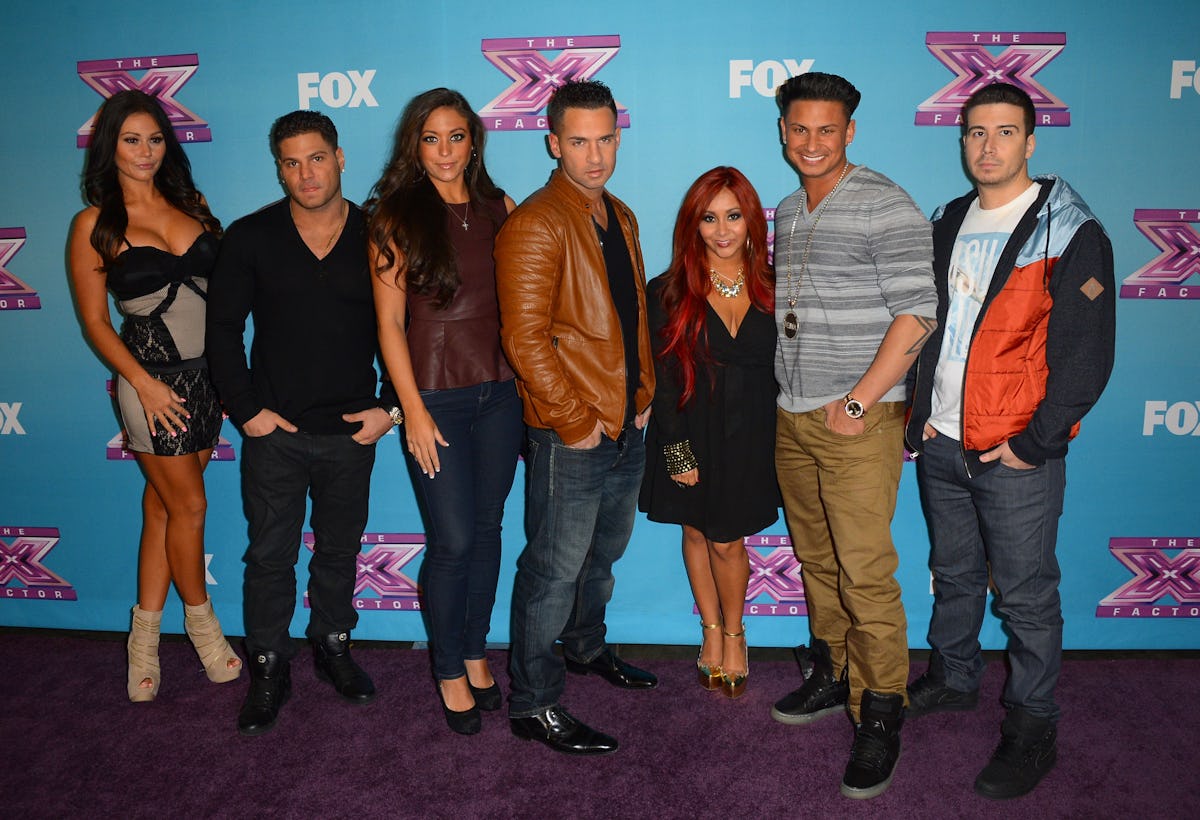 Here's How The 'Jersey Shore' Cast Is Supporting Mike "The Situation" Sorrentino After His Jail Sentencing
Frazer Harrison/Getty Images Entertainment/Getty Images
Staaaahp! The meatballs have always been ride-or-die for each other, but they're really tugging on my heartstrings with this one. In the wake of Mike "The Situation" Sorrentino's years-long legal battle for tax evasion, the cast of Jersey Shore has been right by his side, showing their support for their co-star in and outside of the courtroom. Clearly, that won't be changing a bit, because on Saturday, Oct. 6, the Jersey Shore cast visited Mike "The Situation" Sorrentino after his jail sentencing, and it's one of the sweetest things you've probably ever seen from this group.
According to TMZ, on Saturday morning, JWoww, Pauly D, Ronnie, Vinny, Angelina, Deena, and Snooki showed up at Sorrentino's apartment in Long Branch, New Jersey to show him some love just a day after he was sentenced to prison for tax evasion. One video shows a few of the group members huddling together and comforting each other outside of Sorrentino's place, while another photo shared to Snooki's Instagram shows her, JWoww, and Deena seemingly in good spirits, smiling gleefully into the camera. Snooki captioned the post, "3 Amigos," decorating the supportive moment with a series of heart emojis. Elite Daily reached out to representatives of the cast members for comment on Sorrentino's sentencing as well as for comment on their reported visit to Sorrentino's home, but did not receive a reply by the time of publication.
TBH, this group is seriously proving the power of having a support system in a difficult time. On Friday, Oct. 5, the cast also reportedly showed up to a Newark, New Jersey courthouse to support Sorrentino while he awaited sentencing. According to Us Weekly, the group appeared to have somber facial expressions and were spotted hugging and shaking hands before Sorrentino went inside for his sentencing. He was reportedly sentenced to eight months in prison and two years supervised probation for tax evasion, which Sorrentino pleaded guilty to in January, admitting to dodging taxes by using cash deposits to conceal portions of his income in 2011. In April, he and his brother, Marc, were also hit with multiple tax offenses dating back to 2014, which related to $8.9 million in income.
After the sentencing, Sorrentino's team gave a statement to Elite Daily, expressing that the reality star had been extremely moved by the support of his peers and fans, saying:
Mike accepts the courts decision and looks forward to marrying his college sweetheart, Lauren Pesce and moving forward together after serving his sentence. He anticipates to come back stronger as an individual and couple in the same healthy mind set that he has had for the last 3 years. He and Lauren are both so thankful for everyones support and prayers!
Snooki also offered up some supportive words on Sorrentino's behalf in an Oct. 4 interview with Us Weekly, telling the outlet:
He's just such a good person. He changed for the better. He's a totally different person. … We're all hoping for the best.
With such strong support, Sorrentino should be just fine.