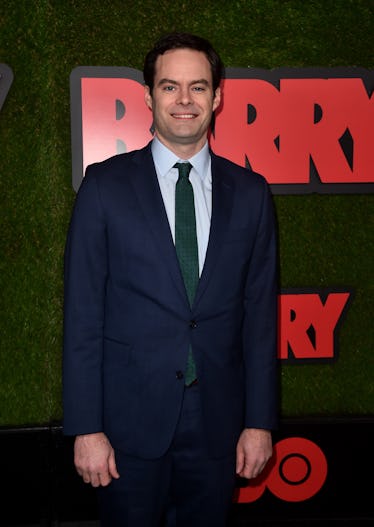 Bill Hader May Be Joining The 'It' Sequel Cast & I'm Honestly Screaming
Alberto E. Rodriguez/Getty Images Entertainment/Getty Images
It fans, meet your potential new adult Richie. The casting announcements for the second installment of the rebooted film adaptation of Stephen King's horror classic are starting to roll in and when it comes to the possible people involved, things are already looking promising. The latest news sure to drum up excitement among those anxiously awaiting more Pennywise scares is that the It sequel may include Bill Hader in the role of Richie Tozier, the foul-mouthed comic relief of the Losers Club. Young Richie was portrayed by a Stranger Things' Finn Woldfhard in 2017's first chapter of It. Can you picture him all grown up in the form of SNL alum Bill Hader? Honestly, I'm buying this creative choice.
In addition to rumors surrounding Hader's participation in It's next half, another big name is reportedly being thrown in the mix for the role of Bill Denbrough aka the Losers Club's fearless (well, sometimes) leader and Georgie's older bro. James McAvoy is apparently in talks to step into the 40-something aged version of the part, which Jaeden Lieberher played as a tween in last year's hit. As previously reported, two-time Oscar nominee Jessica Chastain will take on grown-up Bev Marsh in the sequel. Ah, this is shaping up to be quite a star-studded fright-fest.
Bill Hader's resume proves he's capable of taking on pretty much anything, from an unusual dramedy like The Skeleton Twins to effortlessly embodying the charming rom-com lead a la Trainwreck. The 1990 It miniseries featured Night Court's Harry Anderson as adult Richie. Now, it's time for the hilariously versatile man behind Stefon to put his dark comedic spin on the character.
It: Chapter 2 is slated for a Sept. 6, 2019 release date and will reportedly begin filming this summer in Toronto. That gives producers just a few more months to confirm the rest of the new cast — the sequel, which takes place 27 years after the first chapter, needs its Mike, Stan, Ben, and Eddie. It's looking like the teenage cast's dreams for who should be in the running to play their adult selves are already coming true. In a 2017 interview with MTV, Wolfhard shouted out Bill Hader for the future Richie and breakout star Sophia Lillis (young Bev) put Chastain at the top of her personal wish list. Chosen Jacobs, who played Mike Hanlon, pointed to Chadwick Boseman or David Oyelowo as options for his character's older iteration. Jack Dylan Grazer aka Eddie called on Jake Gyllenhaal, Wyatt Oleff (Stan) said Joseph Gordon Levitt, and Jeremy Ray Taylor (Ben) suggested Chris Pratt to round out the prospective Losers Club. All solid selections, if you ask us.
Jessica Chastain actually expressed interest in playing Bev as early as last year, considering she already has a professional history with It's director, Andrés Muschietti. "Well, I love Andy and Barbara. I worked with them on Andy's directorial debut, you know, his film, Mama. His first film. And you know, Barbara is one of my best friends so…," she divulged to ScreenRant back in November. "Listen, of course, I want to work… they're my friends. They're like my family. Anything that they're doing I want to be a part of, so I hope we can make it happen."
As far as the film's creeptastic villain goes, Bill Skarsgård will indeed return to haunt our dreams as Pennywise the Dancing Clown. And expect to reunite with the kids, too. "On the second movie, that dialogue between timelines will be more present," Muschietti revealed to EW. "If we're telling the story of adults, we are going to have flashbacks that take us back to the '80s and inform the story in the present day."
If the casting directors keep going at this rate, audiences should be pleased with the updated portrayals of the Derry, Maine gang. Here's hoping the young cast's predictions keep turning into reality. Your moves, Chadwick Boseman and Chris Pratt!