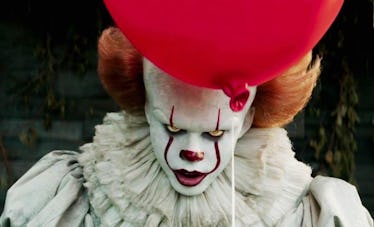 'It: Chapter Two' Just Unveiled Its Poster, So Good Luck Sleeping Tonight
Warner Bros.
We still have a long time to wait before Pennywise dances back into our nightmares for the It sequel, but we are getting a first look at the upcoming horror flick's poster. The It: Chapter Two poster just arrived, because of course Pennywise could not let Halloween go by without reminding us of his demonic presence.
The follow-up to 2017's It adaptation will pick up 27 years after the events of the first movie. In last year's It adaptation, we saw Bill Denbrough, Richie Tozier, Beverly Marsh, Eddie Kaspbrak, Stanley Uris, Mike Hanlon, and Ben Hanscom get together to form the Losers Club in Derry, Maine in the late '80s. The kids bond over their outcast status, and stick together when strange and horrifying things begin happening to them. After doing some research, the Losers realize that a demonic entity called It has been terrorizing them, and they head to it's home in the sewers to confront the shape-shifting demon, who most often takes the form of a clown.
Though the Losers Club manage to defeat It, they do not destroy it, so they make a blood oath to come back to Derry and finish the job next time It emerges. And since they learned in their research that It resurfaces every 27 years, that sets the sequel in the nearly present-day 2015.
We still have not seen much from It: Chapter Two, but the film did release its poster on Halloween. Unfortunately, the poster doesn't feature any of the adult versions of the Losers Club or Pennywise. Instead, it is completely black with "IT" scrawled across the center in jagged, blood-red letters. Check out the new poster below:
As the poster denotes, It: Chapter Two is not due out until next September, but we do already know who will be playing the adult versions of the Losers Club in the sequel. Since the kids from the first movie will be in their late 30s at the time period of the sequel, some recasting obviously had to be done.
James McAvoy is taking over the part of the stuttering group leader Bill, who grows up to become a successful writer married to a film star. Jessica Chastain will play the grown-up Beverly, now a well-known fashion designer based in Chicago. Bill Hader will play Richie, who put his smart mouth to work to become a disc jockey in LA as an adult. James Ranson will play the hypochondriac Eddie, who grows up to run a limo business in New York. Andy Bean will play Stanley, who becomes the partner in an accounting firm. Isaiah Mustafah is taking on the role of Mike, who remains in Derry as an adult, becoming the town's librarian. And Jay Ryan will play Ben, who grows up to be an architect in Nebraska.
Jessica Chastain posted a photo of the cast at their first read-through together back in early July:
It: Chapter Two has been filming for about four months now, with principal photography expected to wrap soon. The movie will land in theaters on Sept. 6, 2019.