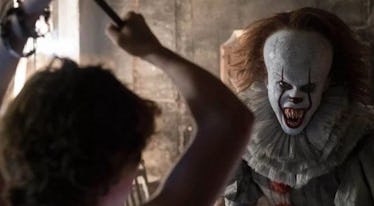 'It: Chapter 2' Will Apparently Include This Trippy AF Scene From The Original Book
Warner Bros.
If you thought last year's adaptation of It was scary, the sequel is taking things to an entirely new level... and dimension. The upcoming movie will feature the strangest and most mind-boggling element from Stephen King's novels — one that many fans probably thought the movie would not even dare to attempt. Screenwriter Gary Dauberman confirmed to CinemaBlend that IT Chapter 2 will include the psychedelic, grotesque, mind-bending Ritual of Chüd. So, what is the Ritual of Chüd? Here's what you need to know about the strange scene that will definitely be the trippiest moment in IT Chapter 2.
As anyone who read both parts of Stephen King's 1986 horror masterpiece It knows, the second half is a much, much wilder ride than the first half. The 2017 adaptation saw a group of outcasts in Derry, Maine face off against the demonic It, most often in the form of Pennywise the clown. The story is pretty straightforward and easy to understand, but things go haywire in part two. IT Chapter 2 will center on the Losers Club returning to Derry as adults, 27 years after last encountering It in order to finish the demon off once and for all. And to do that, things get really metaphysical.
The second half of It has a ton of confusing mythology and magic wrapped up in it, and one of the most bizarre elements is the Ritual of Chüd, which the Losers Club perform to try to defeat It. To perform the ritual, someone has to interlock their tongue with It's tongue, then they both bite down and begin telling jokes. The first person to laugh is then banished to the netherworld. Yes, I know... it's crazy. While all this tongue-biting and joke-telling is going on in the physical realm, the Ritual of Chüd also involves a psychic battle between It and the Losers in the metaphysical realm.
So, yeah — that's the Ritual of Chüd, and somehow, we are going to see that translated to the big screen in IT Chapter 2. Get ready to see someone lock tongues with Pennywise, I guess.
Another mythological element in the novel that will become a larger part of the second movie is the turtle god Maturin. Turtles popped up a few times in the first movie, and they were meant to signal viewers to the presence of Maturin, who is a good cosmic force meant to balance against It's evil. The turtle will play a much larger role in IT Chapter 2, as it guides the Losers Club in their quest to destroy It, possibly even leading them to discover the Ritual of Chüd.
IT Chapter 2 has already begun filming with its newly cast adult Losers Club: James McAvoy as Bill, Jessica Chastain as Beverly, Bill Hader as Richie, Jay Ryan as Ben, Isaiah Mustafa as Mike, James Ransone as Eddie, and Andy Bean as Stan. Expect It: Chapter 2 to fly into movie theaters on Sept. 6, 2019, and expect it to be trippy as hell.