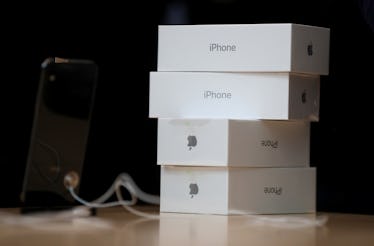 The iPhone XR Release Date Was Delayed A Bit, But It's Still On Its Way Soon
Justin Sullivan/Getty Images News/Getty Images
It's an exciting time for iPhone users, because Apple unveiled a handful of new devices during its "Gather Round" event on Wednesday, Sept. 12. Amongst the new products is the highly-anticipated iPhone XR, and I couldn't be happier. The brand spankin' new iPhone looks like the perfect device for anyone who can't decide between an iPhone 8 and an iPhone X, and I'm totally here for it. If you're as excited as I am, you might be curious about the iPhone XR release date. Thankfully, you won't have to wait too long for the new product.
The iPhone XR, which was announced on Wednesday at the Steve Jobs Theater in Cupertino, California, will be released on Oct. 26. Thankfully, that isn't too far away... right? Sure, it might be a little tough to hold off until then (especially after seeing the phone's impressive features), but Apple can't be rushed. When you think about it, this will give you time to save up for the new phone so you can buy it without checking your bank account every few minutes and hoping for the best. (Am I the only one who does that?)
In all seriousness, the iPhone XR looks like it's worth the wait. Put some money aside and get ready for an upgrade... even if you have to wait until late October to order it.
Before you get too excited, though, you should know about preorders. If you're hoping to be an immediate owner of an iPhone XR on the device's release date, you'll have to preorder it on Apple's website. As stated during the keynote, the iPhone XR will be available for preorder on Oct. 19. Again, make sure you're prepared to make the big purchase when Oct. 26 comes around — because I'm sure the iPhone XR will be worth it.
If you don't preorder the phone, you'll still be able to purchase it on Oct. 26 (so don't worry too much). Again, it's not too far away — and I believe in your ability to stay patient.
Now, you're probably wondering how much money you'll have to spend when you preorder or buy the iPhone XR. Before the big announcement, there were rumors that the new device would have a similar cost to the iPhone 8 (which currently starts at $699). Apparently, the rumors were true — because the iPhone XR costs $749. When you think about all of the cool new features that come along with the phone, that isn't too bad.
Another iPhone XR rumor that began swirling in early September involved leaked photos of the previously-rumored device. The photos — which were shared by Ben Geskin on Twitter — revealed apparent prototypes of the iPhone XR. The tweet revealed four phone colors for the phone, which will apparently come in Black, White, Red, Yellow, Coral, and Blue.
Now that Apple has finally revealed information about the iPhone XR, I'm hoping to purchase one on Oct. 26 and check out the new features.