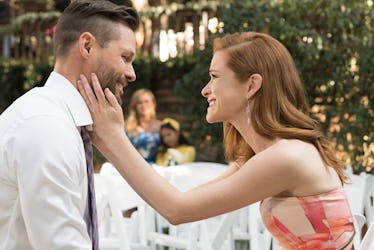 'Grey's Anatomy' Fans May Have Just Figured Out The Reason April & Matthew Left The Show
ABC
When it comes to random Grey's Anatomy plotlines, the return of April's ex-fiancé Matthew in Season 14 is definitely high up on the ever-growing list. The season finale concluded with the reunited couple getting married soon after a surprise second engagement, explaining actress Sarah Drew's scheduled departure from the series. I can only imagine that April and Matthew are off on a whirlwind tour to save the world together, but fans of the long-running ABC drama have uncovered a movie trailer that totally hints about what the couple could get up to in an alternate universe. The Indivisible trailer shows so many Grey's Anatomy actors that the film is basically an unofficial reunion, but I'm still not sure if I prefer its dramatic story to fit an otherworldly version of April.
On a recent Grey's Anatomy Reddit thread, fan u/soswinglifeaway shared the trailer for Indivisible, due out in theaters on Oct. 26, and pointed out that we now know where Matthew and April headed in their wedded bliss at the end of Season 14. The film is based on the true story of Army Chaplain Darren Turner and his wife Heather, aka Justin Bruening and Sarah Drew. Honestly, Matthew Taylor totally could've left the paramedic field to become a preacher and eventually work as a chaplain for the army. Plus, as we all saw, Matthew and April are married now, so the possibilities of where they could end up after presumably leaving Seattle are endless.
As the film's website explains, Darren is deployed to Iraq soon after he finishes seminary and basic training. Heather is left alone at a military base with their young children, but also takes on the responsibility of caring for the emotional needs of other families around her. When Darren finally returns home, his literal and mental battle scars have affected him enough for his marriage to Heather to shift. The couple must now decide if saving their relationship is worth it. Excuse me while I try to refrain from making a joke about April running back to Jackson ASAP.
Not only do Bruening and Drew star as Indivisible's leads, but fellow Grey's Anatomy alum Jason George also appears as a soldier. So, I guess Ben Warren's firefighter stint on Station 19 didn't quite last? In an even bigger ABC/Disney coincidence, Sister, Sister's Tia Mowry stars as George's character's wife. While I can't exactly get on board with such a Grey's Anatomy-heavy cast that doesn't include Chandra Wilson as George's love interest, the religious parallels between Bruening and Drew's characters are a pretty funny coincidence.
Although it was easy for fans to get distracted by April's Grey's Anatomy exit as it approached, Drew has actually posted snippets about her Indivisible work on Instagram throughout the past few months. She shared the film's poster in mid-May, and then posted photos of herself and Bruening in costume as the Turners.
George got some Grey Sloan Memorial love, too, as Drew posted a throwback photo of the two from the Indivisible set. She included a heartfelt message about them working together for so long, saying:
I've known Jason for over a decade and have had the privilege of working with him on three different projects. Jason is so talented, so encouraging, such a collaborative and generous acting partner, and such an incredible team player. I will NEVER forget our experience shooting April's emergency C-section on Meredith's kitchen table.
Oh, man. If the point of these photos is for us to move past Drew leaving Grey's Anatomy, it isn't working. Where are my tissues?
According to Variety, work on Indivisible wrapped a year ago, long before we knew Drew was leaving Grey's Anatomy and April's new life with Matthew fell into place. The film will likely be Drew's first big project since her Grey's Anatomy exit, as plans for her to star in a Cagney & Lacey reboot on CBS were scrapped in May. Could Indivisible be the start of a blooming film career for Drew?
Until we see what other opportunities this movie may bring for Drew, I'll amuse myself by imagining that April and Matthew have taken the film's exact intense path since getting married. Will they pull through just in time to make it back for a Grey Sloan Memorial reunion? I'm kidding... sort of.
Indivisible is in theaters on Friday, Oct. 26, 2018.