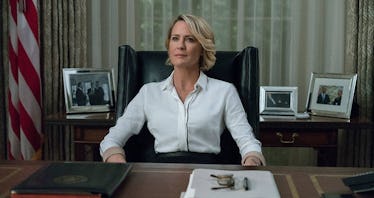 The 'House Of Cards' Season 6 Promo Aired During The Oscars & I'm Screaming
Netflix
A major presidential announcement came during the Academy Awards this year. Towards the end of this year's Oscars telecast, Netflix dropped its first House of Cards Season 6 promo, giving fans our very first look at what we can expect from the show's final season.
Of course, there has been a ton of speculation surrounding the upcoming sixth and final season of House of Cards. Not only did the Season 5 finale leave fans on pins and needles, but on top of the in-show drama, outside of the Underwood White House, star Kevin Spacey was booted from the cast during the production of the new season after allegations of sexual misconduct came to light. After the allegations made news, Spacey responded with a statement on his personal Twitter account, saying,
I have a lot of respect and admiration for Anthony Rapp as an actor. I'm beyond horrified to hear his story. I honestly do not remember the encounter, it would have been over 30 years ago. But if I did behave then as he describes, I owe him the sincerest apology for what would have been deeply inappropriate drunken behavior, and I am sorry for the feelings he describes having carried with him all these years.
This story has encouraged me to address other things about my life. I know that there are stories out there about me and that some have been fueled by the fact that I have been so protective of my privacy. As those closest to me know, in my life I have had relationships with both men and women. I have loved and had romantic encounters with men throughout my life, and I choose now to live as a gay man. I want to deal with this honestly and openly and that starts with examining my own behavior.
With all that going on, as well as the added intrigue of this being the show's final season, we can all rest assured that this new string of episodes will be some of the most intense that fans have ever seen.
The new 30-second teaser gave us just a glimpse into what we can expect from House of Cards Season 6, serving mainly as an introduction to President Underwood. No, not that President Underwood... President Claire Underwood. The promo shows a number of harried White House employees running around before zooming into the Oval Office, where Claire Underwood stands behind the President's desk and says to the camera, "We're just getting started."
Check out the full teaser below:
Netflix dropped the new teaser shortly after teasing that some presidential news was coming. Similar to how the service has teased promos and announcements regarding House of Cards in the past, Netflix's Twitter account capitalized on a major entertainment event (this time, the Academy Awards) and posted that "a message from [our] president" was about to occur.
The new House of Cards teaser also revealed for the first time when Season 6 would premiere... although it didn't get specific enough to reveal the actual date. The trailer ends with the news that Season 6 will begin streaming on Netflix this fall.
Although it was exciting to get our first peek at the new season of House of Cards, the brief teaser did not really give us much new information as to what the story will be about. Its main purpose, it seems, was just to introduce fans to Claire Underwood as the new president, but that is something we were already well aware was going to happen, both from the news cycle and just from how Season 5 ended. Even before Kevin Spacey had been removed from the show, last season ramped up to Robin Wright's Claire Underwood taking over her husband's position as the President, as she sat in the Oval Office and watched as he was taken away to prison.
The new teaser doubles down on the fact that Season 6 of House of Cards will be all about Claire Underwood and her new position of power. Of course, with Frank Underwood officially not appearing at all in the new run of episode, the real question fans have now is what her big struggle will be with her husband completely out of the picture... and whether or not she will just have to brush aside her various connections and past political plots with Frank Underwood or somehow address them without the series ever showing him again. Obviously, it will be nearly impossible to create a compelling TV show about a main character that is never seen or heard from but constantly talked about, so it will be very interesting to see how House of Cards Season 6 tows that tricky line between too much Frank talk and not enough.
Season 6 of House of Cards premieres on Netflix this fall.