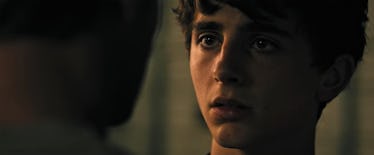 Timotheé Chalamet Is In A New Trailer For 'Hot Summer Nights' & It Looks Wild
A24/YouTube
After Timothée Chalamet wowed audiences with his moving breakout performance in last year's critical darling Call Me By Your Name, naturally everyone wondered what the wunderkind would do next yet. At just 22, he stars in two of 2017's most celebrated films — Ladybird, anyone? — quickly becoming a household name and one of Hollywood's most coveted actors. Now you can get a glimpse at what's in store for Chalamet following his first Oscar nod. (I say first because I'd bank on him scoring more someday.) The Hot Summer Nights trailer was just released, and Timothée's performance looks riveting as ever.
The upcoming Hot Summer Nights, from first-time feature film director Elijah Bynum, takes place in the '80s over one summer. Sound familiar? Well, it looks nothing like Call Me By Your Name, even if that initial description rang a bell. Timothée plays Daniel in the teen drama, which takes place Cape Cod throughout the year's steamiest months. In the trailer we watch Daniel's break go from lazy and hazy to intense real quick, as he gets involved in selling weed with the help of a drug dealer played by Siren's Alex Roe. It Follows' Maika Monroe portrays Daniel's love interest. The clip serves up what appears to be a seasonal coming-of-age exploration of sex, drugs, and risky money-making, and of course Daniel's exploits aren't without consequences. The clip reveals that potential dangers and shady bad guys could pose a threat. Be careful, Timothée!
Hot Summer Nights actually debuted at South by Southwest in March of 2017 and was many years in the making. The movie landed on 2013's Black List of best screenplays and the leads were cast back in 2015. It will be released via DirecTV Cinema on June 28 of this year.
While Timothée signed on to the film prior to his breakout success, he has a handful of juicy roles lined up at the moment. He recently filmed Felix Van Groeningen's Beautiful Boy, which also stars Steve Carell and is based on a best-selling memoir. He'll also reportedly take on the role of Henry V in Netflix's The King, which is slated for 2019.
"There's no design to it," Chalamet explained of his career's trajectory speaking with The Star last year. "The desire was always just to be working with great directors and good storytellers and good actors. By tremendous luck, I get to be in two films (for 2017) that I'm very proud of and to get to work with Greta and Luca were transformative experiences. I'm just sitting in the moment, trying to savor it."
Timothée Chalamet will have the chance to savor more moments with his Call Me By Your Name crew, as the sequel to the beloved romance was confirmed by director Luca Guadagnino earlier this year. "I'm already conceiving the story with André Aciman, and it's gonna happen five or six years afterwards," Guadagnino told USA Today on the Oscar's red carpet. "It's gonna be a new movie, a different tone." The filmmaker has also revealed that Armie Hammer and Chalamet will reprise their roles and the '90s-set follow-up will expand its geographical setting. "You're gonna see a lot of the East Coast of America. They're gonna go around the world," Luca added.
Chalamet and his endearing approach to swift stardom made him the adorable toast of last year's award season. At March's Independent Spirit Awards, Andy Samberg jokingly urged indie stars like him and Saoirse Ronan not to sell out and forget their indie roots. Perhaps he'll do right by Andy and his fans and continue to make interesting, cinephile-approved career choices.