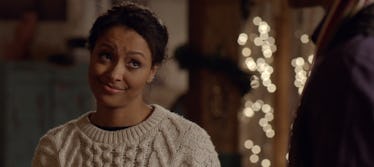 'The Holiday Calendar' Soundtrack Will Immediately Get You In The Christmas Spirit
Netflix
We may still be finishing our stashes of Halloween candy, but on Netflix, the holiday season has officially begun. Its first original holiday movie of the 2018 season, The Holiday Calendar, began streaming on Nov. 2, and its cozy sweaters, fairy lights, and upbeat Christmas tunes already have us feeling festive. If you're in dire need of some Christmas cheer, The Holiday Calendar soundtrack is here to help you feel merry and bright in a totally new way.
Opening in early December, The Holiday Calendar introduces Kat Graham's Abby, a struggling photographer desperate to break away from her dull job at a photography studio specializing in family portraits. As the Christmas season kicks off, her grandfather (This Is Us's Ron Cephas Jones) presents her with an antique Advent calendar that belonged to her late grandmother. Abby soon discovers that the calendar's daily tokens symbolize what will happen to her that day. She begins to rely on the calendar's magic as she explores a holiday romance with a new man (Ethan Peck) and shares her dreams for something more with her best friend Josh (Quincy Brown).
Of course, accompanying the movie's snowy setting and holiday shenanigans is an appropriately seasonal soundtrack. While Netflix has yet to release an official tracklist as of Friday morning, viewers can probably identify some of The Holiday Calendar's music on their own. Seasonal favorites that drift through the air at Starbucks, the mall, or your own Spotify playlist are featured throughout the film, but it also includes several newer songs you definitely didn't sing at your school recitals. If you're ready to ditch Halloween ASAP, a listen to this blend of old and new favorites is definitely the solution.
As per usual in holiday movies, The Holiday Calendar sets the mood with picturesque opening shots of Abby's town, which clearly lives for Christmas. Playing in this scene is the relatively new holiday standard "Send My Baby Home," by Andy Powell and featured performer Louise Clare Marshall. As the movie continues, you can catch snippets of older classics like "We Wish You A Merry Christmas" and "A Sparkling Christmas," but The Holiday Calendar is a modern holiday treat in nearly every way. Look out for Che Ray's "Santa's Comin' Tonight" and Andy Powell's "Here's To Christmas" if you want to jazz up the background music at your next Christmas party.
Christmas movies also aren't complete with a montage or two, and you'll find David Ayers' "Christmas in the City" playing in one of the wintry wonderland scenes that will make December aficionados swoon. In a nod to Holiday Calendar star Brown, who records music under the name Quincy, the film even includes his song "Christmas Time."
If you've grown a little tired of your Bing Crosby and Michael Bublé records, a listen to the fresh Holiday Calendar soundtrack seems destined to break your festive funk. Whoever said November is too early to start celebrating Christmas clearly needs to brew a cup of cocoa and stream some of this music. A little holiday spirit is never a bad idea.
The Holiday Calendar is currently streaming on Netflix.