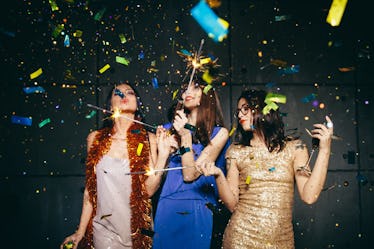 Pinterest Dropped The Top Holiday Looks & It's Time To Break Out The Metallic Eyeshadow
The holiday season is the perfect time to add a little sparkle to your wardrobe. It's the time of year when it's perfectly acceptable to have glittery everything from head to toe (including your eyeshadow and nails). But while there are a ton of holiday staples out there —glitter, plaid, and comfy-cozy sweaters never go out of style — every year, new trends pop up, and it can be hard to keep up with all the changes. Lucky for you, the holiday 2018 style trends are here, according to Pinterest.
Pinterest keeps track of the 62 million people who have been planning their holiday festivities since July. Their team diligently sorts through the 235 million holiday-themed boards on their site to pick out the most buzz-worthy trends for you to draw inspo from. You can keep up with this year's holiday trends on their Holi-YAY 2018 inspiration page so you'll be sparkling from here into the new year.
Let's be real: I've definitely already started planning what I'm wearing for Christmas and New Year's Eve. If you're just as excited as I am for the holiday season, take a look at these holiday style trends from Pinterest.
1. Faux Leather Earrings
2. Gold Hair Pins
3. Popcorn Cardigan
4. Silk Satin Tops
5. Sequin Jumpsuit
6. Dark Berry Lips
7. Metallic Eyeshadow
8. Shimmer Nails