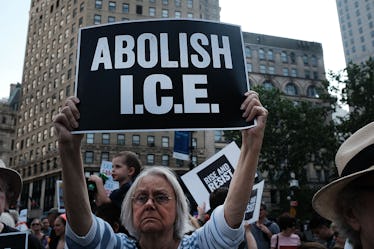 Here's Everything You Need To Know About The History of ICE
Spencer Platt/Getty Images News/Getty Images
What many people don't realize about the Bureau of Immigration and Customs Enforcement (ICE), an organization within the Department of Justice, is that it was only created in 2003. It was, in part, a reaction to 9/11 that intended to guard against terrorism and other illegal conduct by enforcing U.S. immigration law inside the country's borders — the only law enforcement agency that polices such crimes. But the history of ICE reveals how divided America has become about law enforcement.
Calls for ICE to be abolished have gotten louder in recent weeks, with the Trump administration's practice of separating migrant families at the border weighing on the nation's conscience. ICE critics will tell you it's a brutally cruel institution that tears families apart and ruins human lives. Proponents will say it's a necessary agency tasked with enforcing the law. Here's everything you need to know about the ICE debate.
John Morton, former head of ICE, described the significance of the agency on its tenth anniversary in 2013 in a post on its website, writing,
Over the past decade, ICE has improved border security by increasing our presence on the southwest border and strengthening our relationships with our law enforcement partners. We have prioritized immigration enforcement by targeting, first and foremost, criminal aliens and those who pose a threat to the nation.
That ethos has been the guiding force at ICE since its creation by President George W. Bush in 2002. The Homeland Security Act, which was co-sponsored by 118 members of Congress and signed into law by Bush in November 2002, was a sweeping overhaul of Department of Defense — and created the U.S. Department of Homeland Security and the new cabinet-level position of secretary of Homeland Security, according to ICE's website. Homeland Security absorbed 22 other agencies and later divided immigration tasks among three new agencies: Bureau of Customs and Border Protection (CBP), Bureau of Citizenship and Immigration Services (CIS), and ICE.
"The continuing threat of terrorism, the threat of mass murder on our own soil, will be met with a unified, effective response," Bush said at the signing ceremony. The biggest change was that immigration and terrorism were being thematically linked by the rhetoric of the White House.
"At the time, those of us who study immigration pointed out how dramatic a change this was, to place immigration, which had been under the Department of Justice, into this new agency called Homeland Security," Erika Lee, a history professor at the University of Minnesota and director of the school's Immigration History Research Centers, told Katie McDonough at Splinter in February. "It sends the message that immigration was a threat — that all immigration was a threat."
Since then, ICE has morphed into something of a super-agency — it reportedly has incredible surveillance capabilities, relationships with local police departments, and an "unprecedented" presence in America's immigrant communities, per Splinter. According to Detention Watch Network, a national immigration watchdog coalition of organizations and individual, the "average daily population of detained immigrants increased from approximately 5,000 in 1994, to 19,000 in 2001, and to over 39,000 in 2017." By 2013, the United States was spending more money on immigration enforcement than all other federal criminal law enforcement agencies combined.
The Trump administration didn't create ICE, but it has certainly embraced it like never before. And that's what worries ICE critics — that there exists a possibility for ICE be left unchecked under Trump. With mass deportations comes the question of humanity, too, which is part of what makes ICE such a polarizing entity. NPR reported on Wednesday, June 20, that ICE had just carried out its largest raid in recent history — raiding a meat market in Ohio and arresting 146. In March, the American Civil Liberties Union (ACLU) filed a nationwide class-action lawsuit on behalf of the estimated hundreds of other families that have been torn apart by ICE.
"Deportation is brutal," researcher Sean McElwee told Vox in a March interview. "It is probably the worst thing the government can do to you, next to death, and maybe even worse than that."
The immigration debate has been dusted up in recent weeks in light of the border crisis under the Trump administration's new "zero tolerance" immigration policy. It's important to thoughtfully consider that organizations like ICE can change under each subsequent administration, and that by the looks of it — rightly or wrongly — it's as powerful as it's ever been.