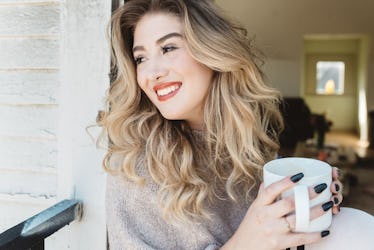 Experts Say This One Thing You Do When You're Home Alone Is Great For Your Health
Tell me if this scenario resonates with you: You have the entire house to yourself, and no one's due back home for at least a couple of hours. You're in the clear — as are your vocal chords — so you take this rare opportunity to turn the volume all the way up on your favorite song, grab a hair brush to pose as a microphone, take center stage in front of your mirror, and belt one lyric after another, channeling your best Mariah Carey. There are a ton of health benefits of singing, and the best part is, you don't even have to be musically inclined to reap them all. So if you have a few minutes to yourself, whether you're in an empty dorm room, your car, or under a shower head, experts say belting a tune could be extremely beneficial to your health.
Singing at a recreational level seems pretty uninvolved on the surface, right? You open your mouth, and sound — good or bad — comes out. But even if you aren't consciously thinking about what's actually happening, there's a lot of activity taking place inside the mind and body when you're jamming to the new Halsey track on your way to work.
"When we sing, alone or in groups, a series of events happen in the body and the brain," Dr. Soph, a clinical psychologist and expert on the mindfulness app Happy Not Perfect, tells Elite Daily. "Our breathing changes, our upper body muscles engage, our lung capacity increases, our attention focuses, we become more present," and on top of all that, Dr. Soph explains, your brain is also sorting through information it has on music, language, tune, concentration, emotion — and that's just the beginning.
Singing isn't just a hobby — it's a physiological and psychological project. So if the inner workings of your anatomy are responding to your jam sesh, are there any genuine health benefits of singing? Here are some of the few that experts agree on.