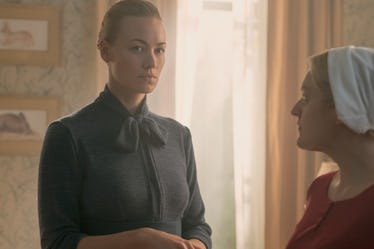 Next Week's 'The Handmaid's Tale' Promo Has Fans Seriously Worried For June & Serena
Sabrina Lantos/Hulu
Now that we're in the second half of The Handmaid's Tale Season 2, things are moving at a rapid-fire pace (literally: The threat of death is very, very real). At this point, a rebellion seems inevitable, and The Handmaid's Tale Season 2 Episode 8 promo suggests that it won't be coming solely from the handmaids. Tensions are high in the Waterford house, and as fans saw in Episode 7, "After," Serena Joy is mounting her own rebellion against the misogynistic society she helped create. In Episode 8, Serena and June will come under scrutiny from a suddenly-reformed Commander Waterford, which is pretty much the worst possible scenario for both women. Can't these two just catch a break?
After Ofglen blew up the new Rachel and Leah center at the end of Episode 6, "First Blood," fans were left wondering whether Commander Waterford survived the massive blast. "After" answers that question (yes, he's alive), and his hospital stay opens up an opportunity for Serena Joy to assume his responsibilities, giving her the power she's always wanted. At the end of the episode, Serena Joy recruits June to help her edit new security declarations that reverse Commander Cushing's autocratic policies, and their efforts seem successful... for about ten minutes.
In the Episode 8 promo, Commander Waterford is back, and he seems ready to reprimand June and Serena for their insurgency. In a move taken out of a horror movie, the Commander uses his cane to slowly open a door in his house, and other than a single light behind him, his figure is completely dark. The Commander has always been a creepy figure, but this is a whole new level of intensity. I literally have goosebumps thinking about this moment. "We cannot question the will of god," he says, because of course his near-death experience made him even more religious. But remember, this is still the same guy who lurks around Jezebels, so I'm betting that his newfound devotion won't last too long.
Piety aside, it seems like the Commander has definitely found out about what Serena and June have been doing while he was in the hospital, and he does not seem happy about it. "The Commander wants to see you in his office. Both of you," Nick tells the women in the promo. In the next shot, Serena and June stand before the Commander, and they both look horrified as he pulls out a heavily-annotated book. Is it a bible? A diary filled with Serena Joy's schemes? Whatever the book is, it spells bad news for Serena — and her co-conspirator, June.
"Now, we must make amends," the Commander says ominously. It seems like these "amends" will absolve Serena, but June isn't so lucky. The trailer ends with the two worst words in The Handmaid's Tale's vocabulary: "Offred, stay," the Commander orders. While fans can't see June's reaction because her back is turned to the camera, it's clear that this is the last thing she wants to hear. And can you really blame her? It doesn't seem like he's really interested in Scrabble this time around.
Based on the Season 2 Episode 8 promo, the tension inside the Waterford house will form the bulk of the episode, but it won't be the only story line fans see. In a particularly bleak plot line, Angela, the baby Janine gave up at the end of Season 1, has fallen ill, and the promo shows her in the hospital surrounded by machines and monitors. "I need to see her," says Janine, but June tells her that "that can't happen" — the baby now belongs to Commander Putnam and his wife. The promo suggests that June, Janine, and even Serena Joy will step in to help save Angela, but it's unclear what exactly they do to help or if their efforts will be successful.
The promo also suggests that the tension between Nick and his wife Eden will finally come to a head when Eden discovers the Mayday letters that Nick has been hiding for June. "Did you read these?" Nick asks. Eden says that she didn't, but Nick clearly isn't buying it (what teenage girl doesn't read the secret notes she stumbles upon?). "You never touch my things, do you understand me?" he tells Eden as she tries not to cry. With each passing episode, it seems increasingly likely that Eden will be the revolution's undoing. Hey, June, Serena, and Nick: You better watch your backs.
The Handmaid's Tale Season 2 Episode 8 hits Hulu next Wednesday, June 6.