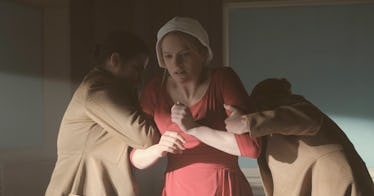 New Details About 'The Handmaid's Tale' Season 2 Are Here & It Sounds So Intense
Hulu
Things really suck in Gilead, but in the real world, The Handmaid's Tale is killing it. Hulu's dystopian drama cleaned up at the Golden Globes on Sunday night, nabbing the Best TV Drama award and earning Elisabeth Moss the Best Actress in a TV Drama trophy, and amidst all that winning the show's creator dropped a few new details about the upcoming second season that will get fans super excited. Showrunner Bruce Miller shared the new details about The Handmaid's Tale Season 2 backstage at the Golden Globes after the show's big win.
With the first season of The Handmaid's Tale covering pretty much all of the main plot of Margaret Atwood's 1985 novel of the same name, fans are curious to see where the show will be taking Season 2. Creator and executive producer Bruce Miller couldn't reveal too much about the upcoming new season of The Handmaid's Tale, but he did say that Season 2 will venture into the colonies, and there would be other new settings that further expand the world of Margaret Atwood's novel.
The colonies were mentioned in the first season of The Handmaid's Tale, but never seen. Moira (Samira Wiley) reveals to Offred (Elisabeth Moss) that once she was caught trying to escape Gilead, the oppressive nation's leaders made her choose between working in the brothels or being banished to the colonies. The fact that Moira chose to become a Jezebel and work in a brothel really tells you just how bad life in the colonies must be. All we really know about these colonies is that they are outside of Gilead and used as a punishment for enemies of the nation.
The tease about the colonies could mean that is where Nick and Offred are headed at the very end of the Season 1 finale. The first season ended with Nick urging Offred to get in his van as they drove off. It is still unclear what Nick's true intentions are — whether he is still loyal to Gilead's leaders and intends to turn Offred in or if he has indeed fallen in love with her and is trying to help her escape. Either way, the colonies could make sense as Nick's destination, and that's when we will start to learn more about these mysterious wastelands.
And another land that we only got glimpses of in Season 1 will likely also play a larger role in the new season. The first season ended with Moira finally making it to Canada and reuniting with Offred's husband, Luke. We will probably learn more about the free land of Canada in the show now that Moira and Luke are together there, although I am guessing they will be venturing back into Gilead soon enough to try to rescue Offred.
Another major thing that we already know about the second season is that Alexis Bledel's character of Emily/Ofglen will be back in a major way. Back in the summer, news broke that Bledel was promoted to a series regular for Season 2. We last saw Ofglen when she stole a Gilead official's car and went on a joyride before being taken away by armed guards. It was unclear whether she was going to be killed or not, but now that Bledel is a regular in Season 2, it sounds like she is definitely still alive. Maybe Ofglen is out in the colonies, and Nick and Offred will meet up with her there.
Season 2 of The Handmaid's Tale will consist of 13 episodes (3 more than the first season) and will likely premiere on Hulu later in 2018.