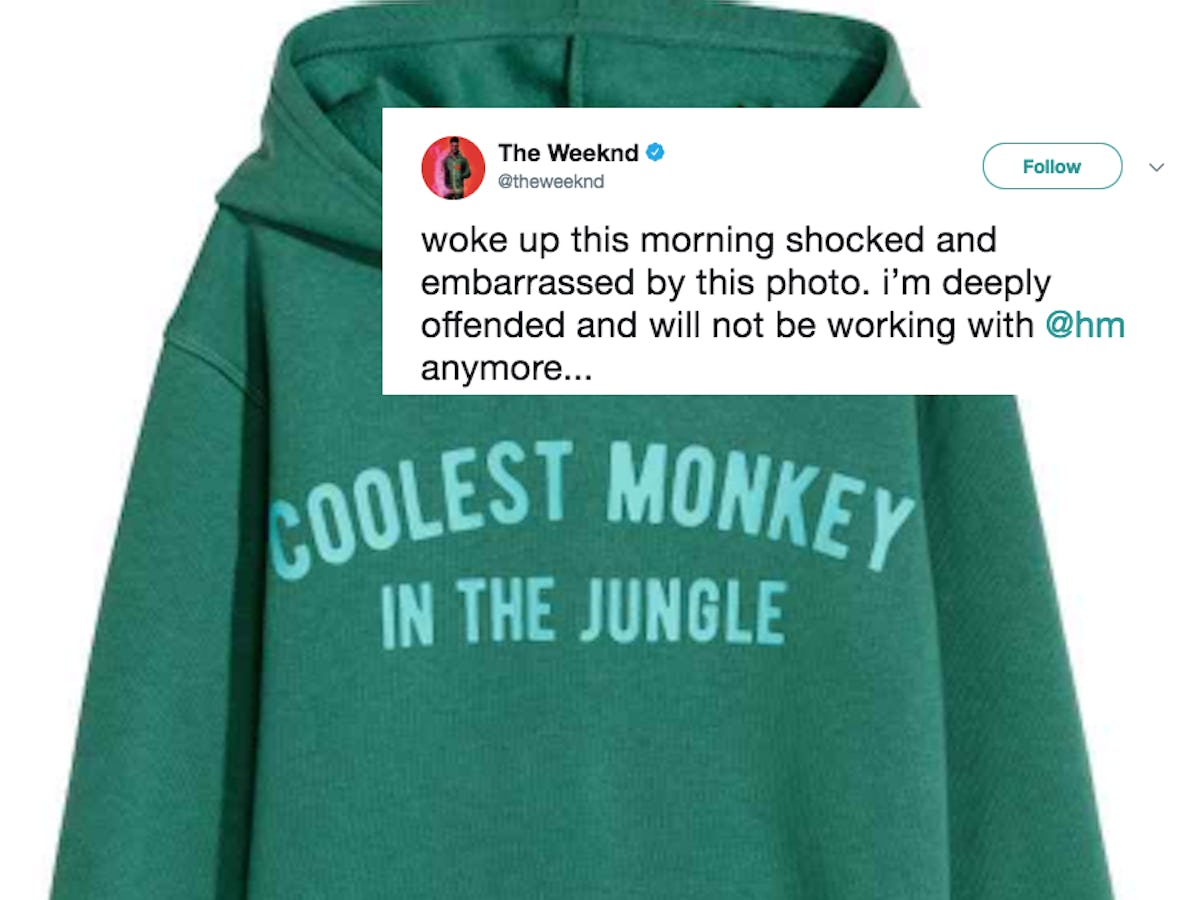 The Weeknd Just Severed Ties With H&M Over This Tone-Deaf Hoodie Ad
Less than two weeks into the start of a new year, the world is entering what could be its first brand controversy of 2018. I don't want to be disappointed in one of my favorite brands, but I'm the first to admit that the H&M hoodie controversy could've been easily avoided.
Outrage first bubbled up on social media when Twitter users noticed H&M's U.K. website was advertising a kids hoodie sweatshirt with the words "Coolest Monkey in the Jungle" emblazoned on the front. Sounds cute, right? The problem isn't the sweatshirt, which is actually cute, it's the fact that the Sweden-based retailer used a young black boy as a model. Other sweatshirts from the same line were advertised on white models.
If you're familiar with the history of the monkey caricature in black culture, you're probably outraged. If not, then it's understandable and I'll break it down for you. The antebellum South justified slavery by comparing black people to monkeys or apes. If blacks weren't seen as people, then that made it OK to not give us self-evident rights or even freedom. The evolutionary theory of Charles Darwin, that humans are descendants of apes, was further used as "evidence" of the primitive nature of black people.
In fact, there's a trove of history behind the negativity of associating black people to monkeys, like coon caricatures during the Jim Crow era and blackamoor art pieces. Simply put, putting a black child into a hoodie that labels him a term with an unacceptably negative history could have been avoided. Do I think that H&M purposefully meant to be racist or hateful in this situation? No, I don't. A lot of children wear clothing with animals on it.
My younger cousins were obsessed with the Peppa Pig series, my brother loved lions and my bedroom was decked out in Fantasia the Ballerina Hippo. The fact of the matter is that the brand could have avoided this controversy if any black worker had sen the photo, or had a high enough position in the company to provide input on something historically insensitive.
At the time of this article, H&M has apologized, pulled the picture and released a statement which CBS MoneyWatch received.
"We sincerely apologize for this image. It has been now removed from all online channels and the product will not be for sale in the United States. We believe in diversity and inclusion in all that we do, and will be reviewing our internal routines."
Although the statement was considerate, people were rightfully still upset about the photo. The Weeknd has pulled his collaboration with H&M from the popular site.
Everyone has a right to be mad, but others are expressing confusion at the magnitude of outcry. Some people may not be aware of why this is such an issue, because kids are often called animal names. For one, it's a big task to expect someone to provide the emotional labor to explain and harness this situation as a teaching lesson, but in cases like these, there's no way to really move forward, and grow as a country/world and evolve if moments like these are not fully explained.
Secondly, there's more than enough qualified people of color to hold high positions in H&M. I'm personally not aware as to what the companies head office looks like, but if people of color held positions higher up in the advertising, editing, and photography departments, this would have been avoided entirely.
Lastly, no one ever really thinks of the child and their family when something like this occurs, and the impact the commentary has on them. I love that Chris Classic, an artist on Instagram re-envisioned the photo with the boy having a crown on his sweatshirt. Not only does it empower him, but it makes him out to be the "King of the World" instead of a mockery. Because he is so much more than a character, or in this case, a monkey. He's a prince.