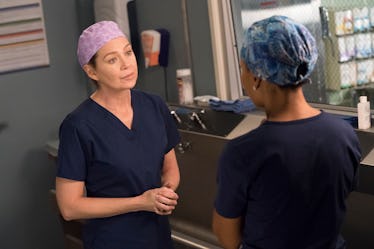 The Promo For This Week's 'Grey's Anatomy' Episode Takes A Dramatic Turn
ABC/Mitch Haaseth
Last week of Grey's Anatomy ended on a poignant note, honoring the Day of the Dead by presenting Meredith with visions of all of her deceased loved ones. The montage topped off a sweet episode exploring Meredith's growing friendship with Link and Glasses' first kiss with Nico, but the upcoming episode looks like it won't be as fluffy. The Grey's Anatomy Season 15 Episode 7 promo has a much darker tone, but we're definitely ready for this potential drama.
Kicking off with a shot of Meredith (Ellen Pompeo) on a plane that honestly aligns more with the busy government workers of Scandal, the promo shows her and Koracick (Greg Germann) seemingly en route to a mysterious surgery patient. Working on her foundation in Los Angeles, Catherine (Debbie Allen) fills the pair in on the patient's confidential procedure. Meanwhile, back at Grey Sloan Memorial, Maggie (Kelly McCreary) learns that Jackson (Jesse Williams) has been talking to other women, while Webber (James Pickens Jr.) deals with a pregnant nurse's sudden complications.
ABC's official synopsis for the episode, titled "Anybody Have a Map?," reads:
Catherine is in Los Angeles getting the new foundation ready and summons Meredith and Koracick to visit for a highly confidential consult. Meanwhile, one of the nurses is 28 weeks pregnant and collapses at the hospital while talking to Richard.
Allen has already teased the episode as a big moment for Catherine, fueling fan speculation that she's actually the patient requesting confidentiality. Catherine describes the patient as a 65-year-old female with neck and back pain, which Reddit users pointed out could feasibly fit the character. Seeing as Webber is thrown an unexpected medical case and the teaser cites an incident happening "close to home," Catherine could easily be the next Grey's Anatomy character to suddenly end up in a hospital bed. Unless the patient is another matchmaker to help out Meredith, why else would the show dedicate an entire episode to this visit with Catherine?
While the show is definitely hinting at something dire, a significant character update also recently happened on spinoff series Station 19. Stressed about the dangers of Ben's new firefighter job, Bailey suggested they take a break in their marriage, but clarified that it didn't mean they were to split entirely. With Bailey technically still on sabbatical, we'll have to wait and see if her romantic issues eventually play out on Grey's Anatomy.
The medical drama also isn't immune to using song names as episode titles. "Anybody Have a Map?" seems to be a nod to the opening song of the Dear Evan Hansen score, but this context doesn't really offer more hints about what to expect in the episode. In the musical number, two mothers commiserate about how lost they are in parenting, but apart from the nurse's pregnancy, the episode teaser doesn't exactly seem to address parenthood. Plus, isn't every episode of Grey's Anatomy about how lost everyone feels?
We'll have to wait and see if these predictions about Catherine's health are valid. Is there a map detailing this segue from a season of love to one of drama?
Season 15 of Grey's Anatomy continues on Thursday, Nov. 8, at 8 p.m. ET on ABC.