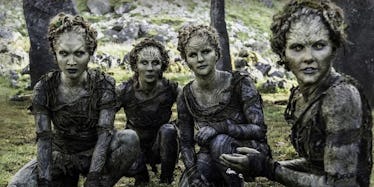 These New Details About The 'Game Of Thrones' Prequel Will Give You Serious Girl Power Vibes
HBO
Game of Thrones Season 8 has still to announce a 2019 airdate. Yet, all the focus seems to have moved to the next show which will follow it. The concept, which boils down to "Game of Thrones: Age of Heroes," is one where the story takes viewers back to the first Long Night, 8,000 years before the time of Jon Snow and Daenerys Targaryen. It's set before there were Seven Kingdoms and before there was even a Wall. But even better, the Game Of Thrones prequel is one that will be written and showrun by a woman, with the promise of strong female characters to come.
For those who need a reminder, here's the overall series synopsis that HBO released when the pilot was announced:
Taking place thousands of years before the events of Game of Thrones, the series chronicles the world's descent from the golden Age of Heroes into its darkest hour. And only one thing is for sure: from the horrifying secrets of Westeros's history to the true origin of the white walkers, the mysteries of the East, to the Starks of legend … it's not the story we think we know.
The series was conceived by Jane Goldman in partnership with George R.R. Martin. She wrote the pilot script and will serve as showrunner on the series.
According to Deadline, HBO president of programming Casey Bloys said Goldman did not go into this process with the idea she would be answering questions leftover by the first series.
Jane did not go into that wanting to answer anything about Game of Thrones; it was the story that spoke to her. It will feel very different because it's 8,000 years before, it's a very different setting, a very different time in Westeros. It will feel different but still Game of Thrones.
Goldman was very savvy to pick this time period to develop into a show. Of the most likely historical periods to choose from, this was the story that is closest to the one Game of Thrones fans know and love.
It's the same overall plot structure. A noble Stark has to travel south to warn of impending doom no one will believe in. While there, he has to negotiate with feudal kings like Garth Greenhand in The Reach and Durran in the Stormlands, convincing them to put aside their differences and fight a common foe. Meanwhile, the wily Lann the Clever cons House Casterly out of their rule of the Westerlands to found his dynasty, the Lannisters.
But there are significant differences. Namely, there is no Wall. There are no Targaryens and no dragons. Instead, there are Giants, Direwolves, and Children of the Forest. Also, the show will be told from a woman's perspective. According to Bloys:
There are very strong female characters but it's an ensemble, there [are] men and women. Jane is a very good writer, we don't want to limit her to writing female leads. There are a lot of very complicated leads in (the pilot).
Like Game of Thrones, this is an ensemble piece. But after a decade of an all-male team running Westeros, having a new perspective on the women of Westeros should be a fun new twist.