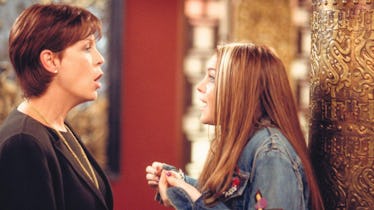 The 'Freaky Friday' Musical Premiere Date Has Been Revealed & It's Even Sooner Than You Think
Buena Vista Pictures
It's a tale as old as time: Mother and daughter don't see eye to eye, mother and daughter swap bodies, mother and daughter have to learn a lesson to get out of said body-swapping situation, chaos and comedy ensues. OK, it's a tale as old as its 1972 novel, but the idea is still kickin' in 2018. In fact, the Disney Channel is bringing it to the small screen very soon... and there will be songs! The network just announced the Freaky Friday musical premiere date, so mark your calendars.
In a video posted Wednesday, stars Heidi Blickenstaff and Cozi Zuehlsdorff — using the help of seven-layer bars, which will apparently play a role in the movie — announced the musical will premiere on August 10, 2018.
The upcoming teleplay is adapted from stage version of Freaky Friday, which is based on the book of the same name and the 1976 and 2003 film versions of the story. It debuted in Virginia's Signature Theatre in 2016 and also played at La Jolla Playhouse, Cleveland Playhouse, and the Alley Theatre in Houston, Texas.
Instead of moving on to Broadway, the Freaky Friday musical went the TV route — which means America can enjoy the show without leaving the comfort of their own homes.
A teaser for the movie was unveiled last February, which served up a glimpse at daughter Ellie (Zuehlsdorff ) and mom Katherine (Blickenstaff) bickering and pleading for one another to "change," before being magically transformed into the other's body. Poof! Cue the squeals.
"This movie is a creative collaboration with our Theatrical colleagues who developed an original stage musical from a beloved story," Disney Channel executive vice president of original programming Adam Bonnett stated. "Now we've added a fresh twist by adapting it again into a movie for kids and families — with Broadway talent on and off camera — that has the potential to be a classic [Disney Channel Original Movie] for years to come."
The musical was penned by Bridget Carpenter, who wrote the screenplay for the film. Tom Kitt and the Tony-winning Brian Yorkey are behind the score and lyrics. If Brian Yorkey's name sounds familiar, that's because the versatile playwright just also happens to be the showrunner for Netflix's 13 Reasons Why.
Freaky Friday has touched at least two generations of movie-goers at this point. The 1976 film, starring Barbara Harris and a 14-year-old Jodie Foster, earned Golden Globe nominations for its lead actors and spawned two sequels.
The 2003 Lindsay Lohan/Jamie Lee Curtis interpretation is beloved among '90s and early 2000s kids alike. Even though it came out nearly 20 years ago, the film still enjoys a fanbase courtesy of television re-play and streaming services. Honestly, I can't help but watch every time it's on. Pink Slip rulez! Now I can't get "Take Me Away" out of my head...
Lohan even took to Twitter last year to express her interest in a Freaky Friday sequel, but apparently Disney went in another direction for now.
Freaky Friday isn't the only fantasy classic getting new life courtesy of the Disney Channel. A Hocus Pocus remake is reportedy in the works as a "reimagining" of the Halloween adventure, although it won't feature the cast from the 1993 original. Meeting a new set of Sanderson sisters isn't exactly ideal, but I'll take it.
Disney Channel is also reviving 2000s animated series fave Kim Possible as a live-action film that's slated to air in 2019. Man, they sure know how to tug at our nostalgia strings...
The Freaky Friday musical airs August 10, 2018 on the Disney Channel. And, yes — that's a Friday.