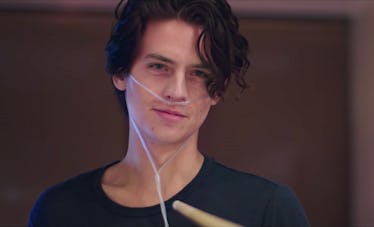 The Trailer For Cole Sprouse's First Movie As An Adult Is Emotional, Rom-Com Perfection
CBS Films
After spending his childhood on Disney Channel, Cole Sprouse took a break from acting for several years before returning to TV to play a dark and broody version of Jughead Jones on Riverdale, and now, Sprouse is making his return to the big screen as well. At the beginning of this year, Sprouse announced his first movie role as an adult, and now our first look at the upcoming teen rom-com is here. The Five Feet Apart trailer with Cole Sprouse is packed with heartfelt moments that are sure to make you super emotional.
As the first trailer shows, Five Feet Apart tells the story of Stella and Will, two teenagers with cystic fibrosis who fall in love while in treatment at a hospital. But there is a major obstacle to their romance: Stella points out that people with cystic fibrosis cannot be within six feet of one another without risk of complicating their illnesses. Haley Lu Richardson stars as Stella, and Cole Sprouse plays her rebellious love interest Will.
The Five Feet Apart trailer chronicles Stella and Will's love story, as they meet and try to navigate a relationship without getting too close physically. At the end of the trailer, the meaning of the movie's title becomes clear, as Stella proposes that they risk worsening their illness to get one foot closer to one another. Check out the first Five Feet Apart trailer below:
Five Feet Apart is the latest in the relatively recent big-screen tradition of young adult romances focused on terminally ill lovers. Hit films like A Walk To Remember, The Fault in Our Stars, Me Before You, and Me and Earl and the Dying Girl have made the tearjerker subgenre something of a trend. It looks like Five Feet Apart will be most similar to The Fault in Our Stars.
The movie is also a big deal because it marks Cole Sprouse's first major movie role in nearly two decades. Sprouse and his twin brother Dylan Sprouse were best known for their television roles as child actors, but their first big break actually came as the co-leads in the 1999 Adam Sandler comedy Big Daddy. After that, the twin brothers had small or bit parts in a handful of other movies, mostly focusing on their burgeoning TV careers thanks to their hit series The Suite Life of Zack and Cody.
Cole and Dylan Sprouse went on an acting hiatus to attend NYU after their spinoff series Suite Life on Deck wrapped in 2011. Last year, Cole made his big return to acting in the lead role of Jughead Jones on the CW's Riverdale, which is currently in its third season. Dylan also began starring in a string of smaller indie movies at the same time that Cole landed Riverdale.
Five Feet Apart also serves as the big-screen directorial debut for Justin Baldoni, who is best known for starring as Rafael on Jane the Virgin. Fans will have to wait a few months to go see the new movie themselves, though — Five Feet Apart is slated to be released on March 22, 2019.