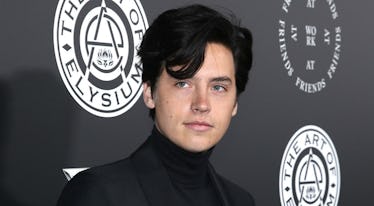 Cole Sprouse Is Starring In A New Romantic Drama Movie & We're Already Swooning
Phillip Faraone/Getty Images
After growing up in showbiz alongside his twin brother, Cole Sprouse kickstarted his adult acting career in a major way last year by starring as Jughead Jones in Riverdale. Now, Sprouse is making the jump from the small screen to the big screen: he just landed the first major movie role. Cole Sprouse will star in Five Feet Apart, an upcoming teen romance flick, according to the Hollywood Reporter.
Five Feet Apart is being billed as an uplifting teen romance, about a couple who meet and fall in love while they are both being treated for illnesses. It sounds as though it is in the vein of the 2014 romantic drama The Fault in Our Stars, which also revolved around a teen couple that bond and fall in love amidst medical tragedy. Cole Sprouse is set to play the male romantic lead in Five Feet Apart; no other cast members have been announced yet. The movie also has some star power behind the camera, with Jane the Virgin star Justin Baldoni set to direct.
Cole Sprouse has built up esteem as a TV star for years — recurring on Friends in his youth, then helming Disney's The Suite Life of Zack & Cody and its spinoff The Suite Life on Deck throughout the 2000s, and currently on the main cast of CW's millennial hit Riverdale — but he has mostly steered clear of the movie screen up until this point. His first movie part was also his biggest, co-starring with Adam Sandler on 1999's Big Daddy when he was just 7 years old. He had smaller parts in a few movies throughout the 2000s, but became best known for co-starring with his twin brother Dylan Sprouse on television, on Disney Channel's The Suite Life of Zack & Cody.
After The Suite Life on Deck wrapped in 2011, Cole Sprouse and his brother Dylan both took a hiatus from show business in order to focus on their studies at New York University. Cole Sprouse was entirely absent from TV and film for about 5 years, before returning to acting in 2017 in the role of Jughead Jones on the CW's dark, broody adaptation of the Archie Comics, Riverdale. That series has gone on to become a massive hit especially among millennial audiences once its first season was added to Netflix, and is currently in the middle of airing its twice-as-long second season.
The fanbase that has come to surround Cole Sprouse's new role as Jughead Jones definitely seems to be the impetus for him getting cast in a teen romance flick. Though Jughead is canonically asexual in the Archie Comics, Riverdale has given the character a sexually charged storyline with Betty Cooper. The relationship quickly became a fan favorite, with viewers dubbing the ship Bughead and celebrating their romantic moments together. Clearly, Sprouse has proven that he is a viable teen romance lead on Riverdale, and Five Feet Apart will take that to the next level.
Since Five Feet Apart is still in early stages, fans will have to wait a while to see Cole Sprouse on the big screen. The movie is reportedly going to try to start shooting this spring, which could mean that it may hit theaters before the end of 2018, or the start of 2019.
Both Cole Sprouse and Justin Baldoni celebrated the casting announcement on Twitter. Baldoni was excited to get to work with his fellow CW actor on the big screen, and Sprouse made a jokes about the movie's title:
Riverdale and Jane the Virgin are currently airing on the CW. Five Feet Apart is expected to begin filming in the next few months.