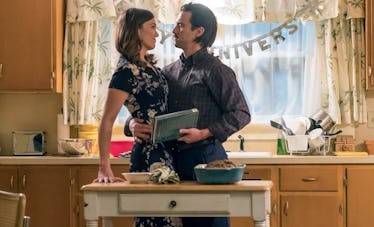 The First 'This Is Us' Season 3 Trailer Is Here, So Prepare To Sob Buckets Of Tears
NBC
A new season 3 promo for This Is Us has been unleashed and it's definitely going to make you cry. After last season's tragic flashbacks to Jack's death, fans are ready for the new season to bring a bit more joy. And from the looks of the first This Is Us season 3 promo, they're going to get it! Well, at least a little bit of it.
If you thought the past two seasons had more than explored all the complexities of the Pearson family's relationships, you thought wrong! The new promo reveals that there's a lot more to come from this tear-jerker of a show, which returns Tuesday, Sept. 25.
In the new promo, NBC has given fans a glimpse of The Big Three's 38th birthday, during which Kate wishes for a baby. Yes, a baby! The next generation might be expanding with a new addition, which is wonderful considering how heartbreaking Kate's ill-fated pregnancy was last season. With any luck, she won't experience as many challenges if she does get pregnant again.
Additionally, the promo shows snippets of the beginning of Jack and Rebecca's romance.
"I met the girl," Jack says.
"You met a girl?" Miguel responds in shock.
Then Jack reaffirms his original statement, "No, I met the girl."
Everyone knows that girl is Rebecca and it's going to be true love for life. But even though fans are aware of this, the joy is in watching it all unfold, seeing how the family comes together in times of crisis, and puts their love for each other first.
Here's the new promo for your viewing pleasure:
I'm sure all the die-hard fans out there are already stocking up on tissues. It's a necessity when you're watching this show because every episode is heart-wrenching and really makes you want to hug your loved ones close.
With that said, you should probably get your emotions in check before the premiere. To help you do that, you might want to check out NBC's This Is Us special that's airing on Sept. 18. The hour-long special, which is called, The Paley Center Salutes 'This Is Us', will feature interviews with the show's main cast and creators. So, who can you expect to be on board for interviews? All your favorites, including Milo Ventimiglia, Mandy Moore, Sterling K. Brown, Chrissy Metz, Justin Hartley, Chris Sullivan, and Susan Kelechi Watson.
NBC's This Is Us special will highlight the show's most memorable moments, as well as provide fans with some insight into how the cast and creators pull this genius show together.
The Paley Center's president and CEO, Maureen J. Reidy, released this statement regarding the special:
Upon its 2016 premiere, 'This Is Us' captured the hearts of viewers and immediately took its place as one of television's most beloved dramas. We are proud to once again partner with our friends at NBC for this very special look at the trials and triumphs of the Pearson family before the series returns for its highly anticipated third season.
The Paley Center Salutes 'This Is Us' will air on NBC on Tuesday, Sep. 18 at 10 p.m. ET. That's just a week before the premiere of the new season!