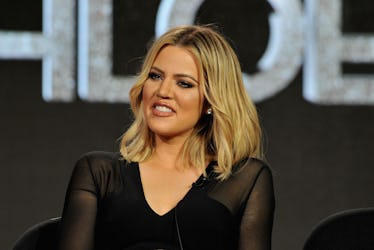 Khloé Kardashian Just Revealed The First Thing She Ate After Giving Birth & It's SO Good
Jerod Harris/Getty Images Entertainment/Getty Images
Fruits and vegetables are king, but sometimes, you just need a little comfort food. Such was the case for Khloé Kardashian immediately after giving birth to her daughter, True Thompson, on April 12. So, what was the first thing Khloé Kardashian ate after giving birth? A McDonald's hash brown!
Kardashian dished about her first post-baby snack on her app in a recent post:
I love how I said the first thing I was going to have after labor was a smoothie and what I actually ate was a McDonald's hash brown. LOL! What can I say, True and I worked up an appetite!
So cute! And, really, who can blame her for snacking a bit after giving birth to her beautiful baby daughter, True? The brave momma just pushed an actual human being out of her body, so give her what she wants.
In a previous post to her app from March 2018, Kardashian explained that she was struggling to not give in to her cravings during her pregnancy:
In my second trimester, I was giving in to my cravings in moderation — but now in my third, I just don't have the self-control I used to have. Like it seriously all went out the window in my eighth month!
While Kardashian coasted through her last two trimesters by succumbing to her cravings, she says shes totally ready to get back into shape. Kardashian said she's proud of herself for not gaining as much pregnancy weight as she thought she would.
Kardashian shared her thoughts on her post-baby body to her app:
I'm actually proud of myself for not being as big as I assumed I would be, LOL — but I'm ready to start getting my body back and feeling mentally clear again. Bring on summer and the hard work — I got this!
Keep in mind, though, ladies... pregnancy isn't about the weight! It's great that Kardashian is keeping her health in mind, but gaining weight during pregnancy is entirely normal and losing it doesn't need to be priority.
A source close to Kardashian recently told People magazine that the reality star is really enjoying being a new mom:
She has help so she can leave for shorter workouts, but otherwise she spends most of her time with the baby. She tries to rest a bit during the day, since she's feeding at night. She seems very energetic and excited to get back to a new normal.
Kardashian recently posted a cute video of little baby True to her Instagram:
Additionally, that same source explained that Kardashian is doing her best to make living in Cleveland work for her and her family:
Khloé is determined to show that she is happy in Cleveland. She's very stubborn when it comes to her life. Her family still disagrees with her decision to stay with Tristan, but they are trying to be supportive. They wanted Khloé back in L.A. for Mother's Day, but she's doing her own thing.
Kardashian, who usually calls Calabasas home, moved to Cleveland to be with beau Tristan Thompson amid a cheating scandal. The couple are raising their child together there. This past Sunday, May 13, was Kardashian's very first Mother's Day since giving birth to True just a month ago and she reportedly spent it all alone. Elite Daily reached out to Kardashian's reps for comment on this new report, but has yet to hear back at the time of this publication.
Whatever Kardashian may be feeling in light of her move to Cleveland and her relationship with Thompson, it's clear that she loves being a mom. Love it!