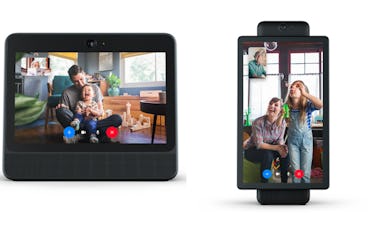 Here's How The Facebook Portal Compares To The Portal Plus, If You're Looking To Buy One
Between your parents, siblings, extended family, and friends, you probably have a few long distance loved ones you're shopping for this holiday season. And, lucky for you, Facebook just released two new devices to make video calling exponentially easier. The Facebook Portal and the Facebook Portal Plus are both a total upgrade from FaceTime and Skype calls, but they're relatively similar, so deciding between the two can be pretty tricky. If you're having trouble choosing between the Facebook Portal versus the Portal Plus, though, I can help you out. Get ready to make the best (and easiest) decision of your life.
According to the Facebook Portal website, the Facebook Portal is much smaller than the Portal Plus. Overall, the device comes in at 9.8 inches by 8.2 inches and it has a 10.1 inch display. Resolution-wise, it's also a little lower quality than the Portal Plus at only 720 pixels. Camera-wise, it's comparable to the the Portal Plus with a 12-mega pixel camera, and in terms of sound, it has a slightly lower range with a 10-watt speaker. While the Portal has a smaller screen as well as lower camera and sound range, it's much easier to tote around with you wherever you go. Plus, it costs less at only $199. If there aren't a ton of other people on your end of the video call, the regular Portal is probably ideal for you.
The Facebook Portal Plus, on the other hand, is much larger than the regular Portal. Size-wise, it comes in at a whopping 8.8 inches by 17.7 inches, and it has a much larger display at 15.6 inches. Resolution-wise, it boasts a whopping 1080 pixels, and like the Portal, it sports a 12-mega pixel camera. However, the volume can get much higher with a 20-watt speaker and it costs a bit more at $349. If you have a gigantic family and everyone's always hitting you up on a video call, this device might be a little better for you. It'll keep everyone in the picture and everyone will be heard.
If you are, in fact, looking to give someone the gift of totally epic video calling, the Facebook Portal is officially available for purchase as of November 2018. You can snag one from Facebook Portal website, the Best Buy website, or off Amazon. You can also get one in-store from Best Buy or from an Amazon Bookstore location. And even though both of these glorious devices are kind of on the pricey side, you can get an entire $100 off when you buy two Portal devices. That way, you'll be able to give one to a friend, and save one for yourself. It's a freakin' Christmas miracle.
Christmas shopping can be pretty tricky, but if you think about it, giving the gift of high-quality communication is incredibly valuable. And since the Facebook Portal and Portal Plus make way for some pretty high-quality video calls, either one is definitely worth snagging for your loved ones. Regardless of which device you choose, you'll most likely be thrilled, either way. Happy video calling!