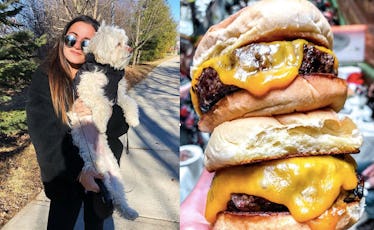 This Girl Quit Her Dream Job To Pursue Her Food IG Account & She's A Huge Success
In a post-Kardashian world, every millennial thinks they have what it takes to go viral, but few consider what that online fame actually looks like in a person's daily life. In Elite Daily's new series, Life Behind The Likes, we speak with the people you know on the internet — from the people behind major Instagram accounts to the Daaaaamn Daniels of the world who went viral for one remarkable moment of their lives — to meet the people behind the screens.
This might sound a little cynical, but hear me out: I truly believe that no matter how satisfied someone seems to be with their career path, everyone fantasizes about quitting their job to pursue something entirely different. Whether it's to become an astronaut, a chef, or even a pop star, everyone has mulled over a career change or two at some point in their lives. Honestly, it's human nature, and 25-year-old Jamie Milne, the creator behind famous food Instagram account @Everything_Delish, can whole-heartedly attest to that.
Milne always had a passion for food. Whether she was exploring the food scene within her hometown city of Toronto or cooking food at home, she always had an interest in tasting, talking, and sharing her passion for food. She's like that one friend you always want to eat out with — she knows about all of the best restaurants, and makes sure to keep up with any and all of the greatest culinary trends.
When it comes to her official title, Milne shares, "I always say I'm not a professional photographer or cook." In fact, she says, "I'm more of a professional eater, and I needed a place to showcase my hundreds of food photos on my phone!"
After graduating from McGill University three years ago, Milne went on to pursue a full-time master's degree in teaching. While still a student, Milne worked as a substitute teacher in a school a couple of times a week, and in her spare time, she started up @Everything_Delish on Instagram as a side-hobby.
Milne began posting the hundreds of food photos she was constantly snapping on her phone, and once she started posting personal photos of herself with the food, she unexpectedly gained a following. She explains, "I started to see a significant increase in followers once I started to post myself on Everything Delish. I always was super nervous and hesitant to put myself out there prior, however, it was the best decision that I made! Now looking back, I truly believe that this how I was able to turn Everything Delish into a full-time business. Once my followers knew that there was a real person behind the camera, I became more relatable and my audience began to trust me."
Aside from posting pictures of herself, Milne attributes a large amount of her initial following to the fact that she was researching food trends on a regular basis. Then, she noticed she was gaining even more followers when she started letting more of her personality shine through her posts. After a few months (and after gaining 50,000 followers), big brands started reaching out to her to feature their products on her social channel. Some, she says, were even reaching out for advice on how @Everything_Delish could be integrated into their international marketing campaigns. At this point, she realized this could ultimately be her full-time career.
After finishing up her master's degree, the certified teacher decided that her heart no longer lay in teaching. In December 2017, Milne decided to go out on a limb and take on food blogging full-time. While Milne was excited and beyond ready to pursue her true passion, she had a few people doubting her along the way. Luckily, she pushed all judgments aside, and continued to do what she loved.
"My immediate family was really supportive (of my decision). Once I was making money and my parents saw the paychecks I was getting, they realized it made sense for me," she explains. "But, I initially received flak from a lot of friends who didn't approve of my career path because it didn't fit into the so-called 'norms of society.'"
"People always say, 'Oh, it's so good you have teaching to fall back on,' and I'm like 'No, I'm a business woman and an entrepreneur' ... I bring happiness into peoples lives, I'm in it for the long run."
Breaking into the "food-'Gramming" world wasn't easy, and still isn't. Milne says she quickly learned how hard it is to be a full-time blogger when she completed her first few branded partnerships. They took time and a ton of planning (sometimes a campaign will last up to six months or more). However, she says she's ultimately happy about her decision.
"Starting out, there was a part of me that was nervous — you see other bloggers being competitive with all of their campaigns, and I'm not that type of person. But I decided if I was going to pursue my own business, I'd have to go 110 percent everyday, or not do it at all."
Despite the fact that it can be a tough field of work, Milne is overall really happy with her job. "People don't think about running a blog full-time, but I'm so proud to be a 25-year-old woman running my own business and feeling so passionate about something. Not only does it make me happy, but it makes others (food brands, restaurants, and followers) happy, too."
@Everything_Delish is now a top food, travel, and lifestyle Instagram account with more than 141,000 followers. It reaches more than 1.5 million accounts weekly, and Milne has curated 10-plus videos that have beyond 1.5 million views, with her most-viewed video at a record-breaking 5 million views, according to Milne. She creates branded content for major hospitality and food companies while continuing to build her own brand by attending events like restaurant openings and tastings. She also regularly collaborates with other creators, and shares her daily routine with her followers.
Every day, Milne is pretty much her own PR and marketing representative, and spends most of her time pitching @Everything_Delish as a marketing tool for big brands. She also focuses on continuing to grow the @Everything_Delish account, not only within media, but by interacting with her followers as well. Yes, it's a ton of work, and she even has an intern. Milne truly defines "boss lady" in the friendliest and most humble way possible.
"What started off as a food Instagram account almost two years ago has now evolved into a personal blog, where my audience is following along with my everyday life," says Milne. "Everything Delish has given me the opportunity to travel the world and meet amazing people, all while eating delicious food. The experiences that I have had through my blog have led to such amazing opportunities," she says. "I'm so happy and I wake up everyday and I think that I couldn't be more fortunate to help restaurants and brands, and to make people happy."
Going outside your comfort zone can be super intimidating. However, Milne's hard work and success shows that it is actually possible to pursue what you love. You'll never know what'll actually happen unless you try, so be spontaneous, work hard, and do what makes you happy.