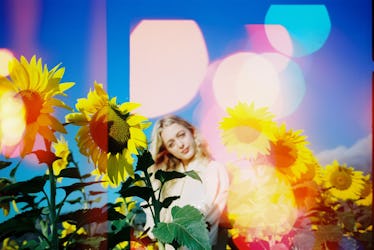 The Best End-Of-Summer Trip To Take While You Still Can, According To Your Zodiac Sign
The summer is practically over, and despite the gorgeous astrological transits we have coming up, I honestly can't help but feel devastated, which is why I'm here to take away your summer time sadness, and share the best end of summer trip to take, based on your zodiac sign. Come on, you don't have to be a Sagittarius to experience a little wanderlust, right? For the record, I'm not a Sag, and I experience wanderlust and FOMO on the reg. It's true, traveling gives me so much life, and sometimes good ol' Saturn, planet of discipline and structure, gets in the way of your vacation plans, and well, you know how it goes.
So, if you have not yet taken the time to get away this summer, please do. Granted, it's not that simple, but trust me, you're not going to regret it. Getting away from your day-to-day routine, at least once a year, is a total must. Plus, let's be real, you don't have to make it so boujee, right? It all depends on the person, and at the end of the day, a vacation is a vacation. It doesn't matter where you go, as long as you've got a positive mindset and someone you love by your side. Can't be that difficult, right? That being said, pack your bags, stargazers. Let's end the summer with a bang!
This fire sign is bold, aggressive, and extremely competitive. So, rest assured, nothing is ever too challenging for Aries. On the contrary, the more exciting and full of thrills, the better. La Fortuna Waterfall, in Costa Rica, is at the base of the dormant Chato volcano, and well, what better way to release steam than this? This is everything Aries needs to cool off this summer.
Those born under the sign of Taurus are ruled by sensual Venus, which is why they prefer quality over quantity. This earth sign revels in its comfort, as it loves to indulge in the finer things in life. You can easily book this experience through Marriott Moments, and it's time to treat Taurus' taste buds to some of the finest food that Tuscany has to offer.
It doesn't get more lavish than spending a perfect afternoon in the Chianti hills, sippin' on some Chianti Classico wine.
Geminis are mischievous, multifaceted, and sharp intellectuals. Their agile minds are constantly switching back and fourth between the left and right-brain, eventually mastering both sides.
Unlike Taurus, those born under this sign prefer to keep busy, which is why Kabukichō, is the perfect place for a Gemini to explore. Whether it's the neon lights, hidden bars, or risqué night life, rest assured, this city will fuel their curious minds.
Cancer is a pure reflection of the ever-changing moon, and even when it seems as though they're simply going through a phase, they're really absorbing an ocean tide of emotions.
The Island of Capri, Italy is not just a dream destination, it's the perfect place to explore the hidden treasures of the Naples Bay. Nostalgia and hidden treasure? Sounds like a Cancer's dream come true. Oh, and if they're feeling adventurous, say no more, and head to the Grotta Azzura. This is a magical paradise.
Leo is the butterflies in your stomach, combined with the feeling of utter joy. What makes you happy? This fire sign represents our creativity, individuality, and inner child. Leo is zodiac royalty, period. Speaking of royal, Fira, the capital of Santorini, is famous all around the world. There's everything from bars and quaint cafes, to restaurants with the most amazing views. Similar to Leo, its energy is bursting with life.
Virgo is efficient, practical, and a brilliant intellectual. Details are always a must, which is why Marrakesh, Morrocco immediately comes to mind. This is the perfect spot to wander, and explore the colorful culture. Virgos appreciate hard work and detail, which is why they'll love exploring the markets and apothecaries in the countless alleys in the city.
Libra is coquettish, feminine, and totally gorgeous. This air sign likes to keep things light, social, and overflowing with harmony. Speaking of harmony, the tulip fields the Netherlands can easily become Libra's new playground.
Whether they're taking the perfect snap for Instagram, or simply running through a field of flowers, this is their happy place. I can guarantee it.
Scorpio is notorious for its intimidating presence, secretive nature, and erotic sex appeal. This water sign is intense, passionate, and incredibly mysterious. Scorpio's psychic sensitivity makes them highly in tune with the other side, which is why Dracula's castle is the perfect place for them to run off to this summer. Scorpio will simply swoon over the ancient darkness and spooky myths of Bran, Romania.
Sagittarius is incredibly enthusiastic about life experiences. This fire sign wants to live life to the absolute fullest, without any regrets. There's an inner compass guiding them on this voyage we call life, and they genuinely don't want to miss a moment of it. Speaking of voyage, the Taj Mahal is one of the most beautiful buildings in the world, let alone one of India's most famous landmarks. Sagittarius finds a home in the unknown, and this is a must see.
Capricorn is highly ambitious and determined to get to the top of the mountain. Speaking of, Zugspitze is the highest peak in Germany, with an elevation of 2,962 meters. This mountain belongs to the Northern Limestone Alps, and is found in the boundary between Germany and Austria. Tall mountains and boundaries, oh, this is totally Capricorn's scene!
Aquarius is a social rebel, and often referred to as the genius of the zodiac. Ruled by electric Uranus, planet of chaos and unexpected change, those who are born under this sign are incredibly unique and eccentric. Speaking of electric, the Gardens by the Bay in Singapore is eclectic and diverse. This is the perfect summer destination for the water bearer, as it has a variety of international offerings.
Those born under the sign of Pisces are dreamy, mystical, and emotionally receptive. Their mysterious depth is infinite like the ocean, and its ethereal-like quality is almost heavenly. This is precisely why I highly suggest a day trip to Punta Cana, not to mention a once-in-a-lifetime experience. In the open waters of Samana Bay, you and your tour guide will be on the lookout for humpback whales. As soon as they're spotted, your boat will be taken nearby where you can catch a glimpse. It honestly doesn't get more magical than this.