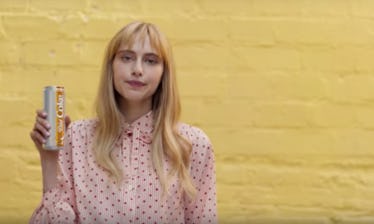 Diet Coke's Super Bowl Commercial Was NOT What People Were Expecting
Guys, Diet Coke got a huge makeover just in time for the Super Bowl, and the new flavors are being celebrated with some pretty funny commercials. If you weren't aware of the soda's big transformation, allow me to explain. On Jan. 10, Diet Coke launched four fruity flavors and completely changed the size and color of their cans. Luckily, the brand decided to release an ad for each new flavor, and we were #blessed with a new Diet Coke commercial during the Super Bowl. That's right: Diet Coke's 2018 Super Bowl commercial aired on Super Bowl Sunday.
The new Diet Coke commercial features Hayley Magnus, an Australian TV and film actress. In the commercial, Magnus tries a sip of Diet Coke Mango and can't express her thoughts about the flavor through words — so of course, she dances. However, Magnus wasn't originally supposed to have a spot in Diet Coke's Super Bowl commercial. According to Variety, the actress was originally supposed to star in a six-second video to help Diet Coke promote their campaign on social media. After ad-libbing and dancing against a yellow wall in East Los Angeles, she landed a spot during the big game. If you missed the commercial, you can check it out below.
Now that we've finally seen the new Diet Coke commercial we've all been waiting for, let's take a second and recap Diet Coke's new flavors. Some might call them tropical, and other might call them summery. However, I just call them straight up delicious. Diet Coke's new flavors include Ginger Lime, Twisted Mango, Feisty Cherry, and Zesty Blood Orange. They sounds super refreshing, and I'm definitely down to give each one of them a sip. But if you're someone who hates change and doesn't want to stray from the original Diet Coke flavor, don't fret — the OG isn't going anywhere.
As previously stated, each flavor has its own commercial that Diet Coke recently published on YouTube. The series showcases Diet Coke's "Because I Can" campaign, and includes one 30-second ad and and four 15-second ads (plus, the new ad revealed during the game).
Original Diet Coke
The previously-released 30-second commercial features Gillian Jacobs drinking a original Diet Coke. Personally, I know Gillian Jacobs from the Netflix series Love, and I'm pretty much her biggest fan. During the commercial, she convinces everyone to "do you," and says that viewers should have a Diet Coke if they feel like having one. Cheers to that — pass me a can, will you?
The rest of the commercials — which are only 15 seconds long — are witty and to the point. Each one showcases a new flavor and features a new star. Sure, they aren't as popular are Jacobs, but they probably will be now.
Zesty Blood Orange
The Wrong Girl's Hayley Magnus stars in the short Zesty Blood Orange Diet Coke commercial. In the ad, she claims "zest is the spice of life," and then takes a sip from the orange-hued can. Apparently, it's pretty damn "zesty."
Twisted Mango
Comedian Ryan Goldsher stars in the Twisted Mango Diet Coke commercial, where he hilariously states, "'cause if nature couldn't twist it, at least this can can."
Ginger Lime
Daniel Stewart reps Ginger Lime, and says, "Diet Coke Ginger Lime? Because I support all things ginger." Ha.
Feisty Cherry
Deadpool's Karan Soni sips a can of Feisty Cherry in another short ad, where he claims, "This is not the kind of cherry you bring home to your mom — it may be too feisty."
As you can see, Diet Coke went the simple route with commercials this year. However, each one of them is subtly hilarious and definitely convinces me to try the new Diet Coke flavors. According to Ad Age, Rafael Acevedo, Coca-Cola North America's group director for Diet Coke, talked about the commercials in a statement. He said,
We wanted to present a fresh approach to Diet Coke advertising, while still bringing our loyal current fans along on the journey. Diet Coke has always been a brand that stands for confidence, but how we're saying it is totally new. Now, it's about having the confidence to do what you want to do and drink what you want to drink. Because you can.
With that being said, I'm going to go grab a Diet Coke — preferably a Ginger Lime — because I can. Heck, the flavor might be so good that you can't help but dance.