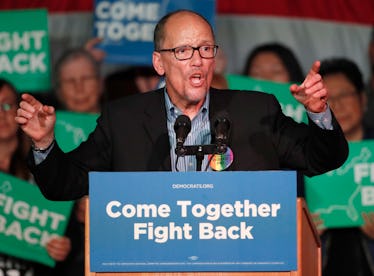 The Democratic Party Is Suing Trump & Russia Over The 2016 Election
George Frey/Getty Images News/Getty Images
A federal investigation into alleged ties between President Donald Trump's campaign and Russian efforts to interfere in the 2016 election has yet to reach a conclusion. But that doesn't mean that the Democratic party will wait to take action. On Friday, April 20, The Washington Post reported that the Democratic party is suing the Trump campaign, Russia, and Wikileaks, alleging that all three conspired to damage former Democratic challenger Hillary Clinton.
In a statement, Democratic National Committee chairman Tom Perez stated the party's case for filing the suit. "During the 2016 presidential campaign, Russia launched an all-out assault on our democracy, and it found a willing and active partner in Donald Trump's campaign," Perez said, per The Washington Post. "This constituted an act of unprecedented treachery: the campaign of a nominee for President of the United States in league with a hostile foreign power to bolster its own chance to win the presidency."
Perez, a former secretary of labor under former President Barack Obama, also tweeted a blog post on Friday, which further explained why the party was filing the lawsuit.
The blog post reads,
A major part of Russia's attack on American democracy was the cyberattack on the DNC and theft of the DNC's proprietary information. This stolen information was then released to the public by Russian agents and WikiLeaks to damage the Democratic Party and influence the 2016 election. We're taking this action because we believe no one is above the law, and we must pursue every avenue of justice against those who engaged in this illegal activity against the DNC and our democracy. We must also prevent future attacks on our democracy, and that's exactly what we're doing today.
The 66-page lawsuit was filed in a New York federal court on Friday, The New York Times reports. Inside the lawsuit, the Democratic party pieces together publicly reported information about the Department of Justice's Russia investigation — which has been led by former FBI Director Robert Mueller — and uses that information to allege that Trump campaign members illegally coordinated with Russian actors and Wikileaks to hack and release damaging information about Democrats and the Clinton campaign, The Times reports.
Elite Daily reached out to the White House for comment, but did not immediately receive a reply.
"We believe that Russia found a willing partner in the Trump campaign, who shared their goal of damaging the Democratic Party and helping elect Donald Trump," the Democrats' blog post read. "The Trump campaign had repeated secretive communications with Russian agents and WikiLeaks. Russian agents told Trump advisors that the Kremlin wanted to help Trump and had stolen emails and other material that could damage Trump's opponent. And Trump's closest political advisor, Roger Stone, had advance knowledge of a major release of stolen Democratic emails."
So far, Mueller's investigation has resulted in indictments against multiple Trump associates, including former Trump campaign manager Paul Manafort and Trump's first White House National Security Advisor, Michael Flynn. The lawsuit comes one week, however, after Deputy Attorney General Rod Rosenstein reportedly assured President Trump that he is not a target of the investigation, Bloomberg reported. Elite Daily has reached out to Rosenstein's team at the United States Department of Justice for confirmation that he said this.
Rod Rosenstein oversees the Russia investigation because his superior at the Justice Department, Attorney General Jeff Sessions, who was involved in Trump's campaign and transition to the White House, recused himself from involvement in the investigation.
In the DNC's blog post about its lawsuit, the party said that the lawsuit was being filed as a deterrent against future interference in American elections.
"We're going to keep our eyes on the prize: taking back the House and Senate, winning back governorships and state legislatures, and moving our country in the right direction," the post reads. "But winning elections also means protecting elections, and today we're doing just that."