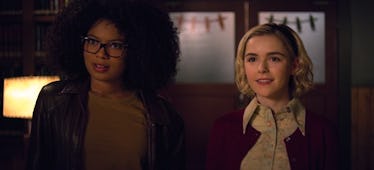 Here's What 'Sabrina' Fans Should Know About Season 2's Newest Castmates
Netflix
Netflix's newest hit series, Chilling Adventures Of Sabrina, was such a blast out of the gate that the streaming service decided to give the show its own Christmas, err, Solstice special this year. But while fans are salivating to see how the Spellmans celebrate the holiday spirit, behind the scenes, the show is working towards putting together Season 2. According to star Kiernan Shipka, the production rolled straight from working on Season 1 to the new installments. Now, the new Chilling Adventures Of Sabrina Season 2 cast members are starting to be revealed.
The first is actually a cast member being added to the Christmas special: Young Sabrina! Even though Shipka is only 19 herself, apparently, that's not going to be young enough for some of the flashback scenes in the holiday special.
Young Sabrina will be played by McKenna Grace, who Netflix viewers might recognize from her recurring role in Fuller House as well as an appearance in I, Tonya. According to Netflix's description of the character, this pint-sized version of Sabrina will be shown asking Santa Claus for "something special." Precisely what it is she asks for, and what spells she might cast if it doesn't show up in front of the Yule Log, remain to be seen.
As for the other cast members, there are two being added to Chilling Adventures Of Sabrina Season 2, which will premiere on Netflix sometime in 2019. The first is Alexis Denisof. He's no stranger to magic, as he played Wesley Wyndham-Pryce on Buffy, The Vampire Slayer as a recurring character, who then later took on a starring role on Angel.
Denisof has been cast as Adam Masters, a character from the comics who — get this — is Mary Wardwell's fiancé. As in, the first Mary Wardwell. Remember the mousey one with the glasses? One wonders exactly how Masters is going to react to his ladylove and her new style. Somehow, I don't think Lilith is going to be amused to discover herself engaged to be married to a mortal.
The final cast member announced this week is Jedidiah Goodacre, who plays an "enigmatic gentleman warlock of an indeterminate age" named Dorian Gray. Apparently, he's a businessman, too, and owns a nightclub. Sounds like a fun guy.
One gets the sense he's probably a long-lived warlock who has been a handsome young man for a least a couple of centuries, especially if his name has any relation to the Dorian Grey of Oscar Wilde fame. He sounds like someone Ambrose and Luke might start hanging out with, and who can join their growing warlock boys' club that viewers saw at the end of the Season 1 finale. Perhaps they can all meet up at the nightclub for a drink and a spell or two.
The upcoming Christmas special, Chilling Adventures Of Sabrina: A MidWinter's Tale arrives on Netflix next month on Dec. 14, 2018. The second season of Chilling Adventures Of Sabrina, which will be 10 episodes, will follow sometime in 2019, probably in October or thereabouts.