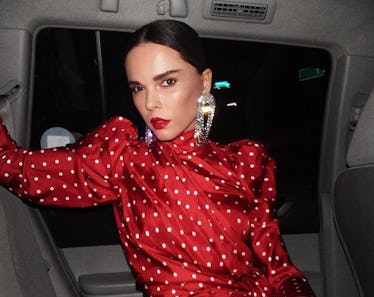 Chandelier Earrings Are A Huge Trend This Season, So Here Are 14 Pairs That'll Light Up A Room
Remember that scene from How to Lose a Guy in 10 Days when Matthew McConaughey leans out the window and tells the women of New York to "frost" themselves with diamonds? You might want to follow his advice because this season's chandelier earrings trend is about to take over every holiday party and dressed-up event and in terms of its aesthetic, the icier, the better.
Seeing as dramatic, crystal-laden earrings were all over the Fall 2018 runways (Tom Ford, Zadig & Voltaire, and Gucci all championed the style), it's no surprise that seemingly every Instagram influencer, stylist, and editor is now trying on the trend for size. Olivia Perez, Evangelie Smyrniotaki, Leah Abbott, and more have all stepped out in the trend as of late and proven that it really can go with anything. Even if you're not headed to a lux soiree, throw on a pair of chandelier earrings with a blouse and jeans and you'll instantly look playfully festive. Seeing as they're offered at all price points, you won't have to give up an arm and a leg just to score a pair, either. (We can't say the same for the De Lauer ice McConaughey was technically talking about.)
Below, 14 glam chandelier earrings that'll have you shining all night long but won't break the bank.
Long Haul
Boasting shoulder-grazing strands of shimmery rhinestones, these earrings will bring the drama. Pair them with a slicked-back ponytail or bun for an especially sleek effect.
Tiers Of Joy
Because who doesn't want layers upon layers of diamond-encrusted pendants dangling from their ears?
Flaming Hot
Chandelier earrings don't have to stick to a strict gold and silver color scheme. This pair is reminiscent of a fiery sunset, but still boasts a dose of glam.
Knock Knock
Like vintage door knockers, but way more covetable.
Oddballs
These, too, boast a vintage feel thanks to their art deco-inspired design. Their twisted shape and the randomness of the embellishments renders them total statement earrings.
Strings Attached
These will make it look like mini waterfalls made of beads and crystals are cascading from your ears.
Modern Art
Thanks to their asymmetric shape and multiple moving parts, these remind me of little pieces of kinetic art.
Royal Jewels
I can see these dripping from the ears of pretty much every medieval queen who ruled. Opulence at its best.
Delicate Things
If you want to rock the trend but in a decidedly more subtle way, go for these tasteful drop earrings.
Metal Head
For when you can't choose between silver or gold.
The Bee's Knees
These insect pendants! Enough said.
Arch Support
Another more colorful pair, these earrings remind me of mini rainbows — except they end in strands of diamonds instead of pots of gold.
Très Chic
Elegant and ornate, but not gaudily so. These are perfect for an extra formal event.
I'm Single
Nail two trends in one with this offering, which is a single chandelier earring meant to be rocked on its own.