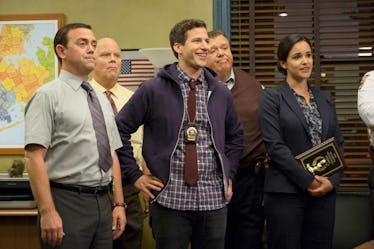 The 'Brooklyn Nine-Nine' Season 6 Premiere Is Coming Sooner Than You Think
Fox / NBC
Squad, assemble! After moving to NBC following its May cancellation on Fox, your favorite police sitcom has announced its official return date. Season 6 of Brooklyn Nine-Nine was previously marked as a mid-season premiere for its new network, but Andy Samberg and company will be back on our screens before we know it. The Brooklyn Nine-Nine Season 6 premiere is airing way sooner than you may think.
While most shows locked in for mid-season TV premieres usually begin airing in February or March, the new season of Brooklyn Nine-Nine begins on NBC on Thursday, Jan. 10, at 9 p.m. ET. Some shows don't even return from their holiday hiatuses by then, so the prospect of seeing more Brooklyn Nine-Nine in only two months is fantastic. Seeing as the upcoming season has already promised significant changes, it's probably best that NBC is kicking things off sooner rather than later.
Back in September, NBC bumped the comedy's original 13-episode order up to 18 episodes, while star Chelsea Peretti later announced that she would leave the series sometime during Season 6. In addition to Season 6 involving a proper sendoff for Peretti's Gina, the fifth season finale left questions open for this next batch of episodes to answer. Jake (Samberg) and Amy (Melissa Fumero) finally tied the knot in the finale, setting up a new dynamic for what a married couple together in the office will inspire. The squad also couldn't tell whether or not Holt (Andre Braugher) was appointed Commissioner, which fans will presumingly find out in the new season's first episode.
After Fox cancelled the series earlier this year, intense fan backlash prompted NBC to quickly pick up Brooklyn Nine-Nine as one of its own. Soon after the surprise renewal, showrunner Dan Goor told Deadline about his reaction to the news:
I literally screamed. I was so happy. So excited. It was pure joy...We love the fans of the show so much and we were BLOWN AWAY by the support they have given us.
At the time of the renewal, NBC Entertainment chairman Bob Greenblatt said in a statement:
Ever since we sold this show to Fox I've regretted letting it get away, and it's high time it came back to its rightful home. Mike Schur, Dan Goor and Andy Samberg grew up on NBC and we're all thrilled that one of the smartest, funniest, and best cast comedies in a long time will take its place in our comedy lineup. I speak for everyone at NBC, here's to the Nine-Nine!
Peretti's exit means that the sixth season will likely be bittersweet, but one less squad member is better than none of them at all, right? When she announced her upcoming departure in October, Peretti also hinted that she would return to the show for guest stints, tweeting, "I won't be doing a full season of Brooklyn Nine Nine in Season 6. But that doesn't mean I won't ever be back."
There's no word about when in the season Gina will leave the squad, but we definitely have at least a few weeks of seeing our favorite cops back together again. Season 6 of Brooklyn Nine-Nine premieres on Thursday, Jan. 10, at 9 p.m. ET on NBC.