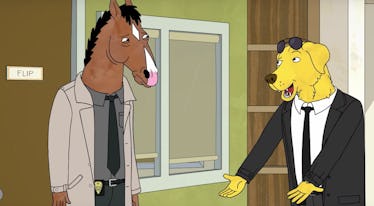 The 'BoJack Horseman' Season 5 Trailer Is Just As Ridiculous As You Hoped
Netflix
We are incredibly close to the new season of BoJack Horseman, and to get us even more pumped for the upcoming season, Netflix has just released the BoJack Horseman Season 5 trailer. Always true to form, the new trailer runs the gamut of depressing, alcohol-soaked mundanity to wild, surrealist images like line-dancing popsicles and characters with hands for faces. It also appears as though Season 5 may be the most action-packed season of BoJack Horseman yet.
At the center of the BoJack Horseman Season 5 trailer is BoJack's new acting gig, as the star of a gritty detective series called Philbert. But although BoJack has a cushy new job, he of course still has all the same problem. Namely, it appears that his attempts to cut back on his drinking are not exactly working, and he continually refuses Diane's urgings for him to try therapy. The new trailer just focuses on BoJack, so we do not really get to see what will happen with Diane, Todd, Princess Carolyn, and Mr. Peanutbutter in the new season, aside from a few glimpses of them. But it seems safe to say that BoJack's new television role is only going to further complicate his issues. Check out the full trailer for BoJack Horseman Season 5 below:
The Season 5 trailer also confirms that a number of new additions from last season will return and in the upcoming episodes: Philbert's creator Flip McVicker (Rami Malek) will obviously have a much larger part in the new season since BoJack will be working on his show, and Todd's asexual girlfriend Yolanda (Natalie Morales) will also return after starting a romance with Todd at the very end of Season 4. BoJack's half-sister, whom he had presumed to be his daughter up until the end of Season 4, Hollyhock (Aparna Nancherla) is also back to check up on BoJack, the trailer reveals.
Since the trailer is mostly focused on BoJack's personal demons as well as his new role on Philbert, we only get a couple glimpses at what the other main characters are up to in Season 5, but those brief moments raise some questions. Mr. Peanutbutter appears to have a part on Philbert as well, or possibly a lead role in his own competing gritty detective series. Todd appears to be going through some tension in his relationship, and when Diane is not trying to get BoJack to deal with his problems, we see her looking a bit uncomfortable in traditional Vietnamese clothing, suggesting she will possibly be dealing with some identity issues. And of course, Princess Carolyn is just as involved in Philbert as BoJack is, trying to keep her client on the rails.
Luckily, we will get to know the real story behind all of these question-raising scenes and images in just a matter of days. BoJack Horseman Season 5 is set to premiere on Netflix in just over a week's time. Look for Season 5 of BoJack Horseman to become streamable on Friday, Sept. 14, 2018.