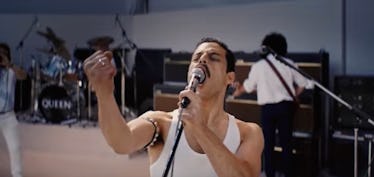 The 'Bohemian Rhapsody' Trailer Is Here & Whoa, Rami Malek Is Perfection
20th Century Fox
He will, he will rock you. Rami Malek that is — in the biopic role of a lifetime as Queen frontman, Freddie Mercury. The Emmy-winning Mr. Robot star is channeling the late vocalist in the just-released Bohemian Rhapsody trailer and the resemblance is uncanny. The clip not only serves up the familiar sounds of the legendary "Killer Queen" rockers, it shows them in all their '70s glam glory as they come up in the industry, and put their unique stamp on the music world. "This is where the operatic section comes in...," Malek's long-haired Mercury declares in the recording studio, presumably referring to their defining (and titular) track "Bohemian Rhapsody."
"It goes forever," an exec laments to the bandmates of the tune. "Six bloody minutes."
"I pity your wife if you think six minutes is forever," Mercury (Malek) quips back with charming confidence.
"The only thing more extraordinary than their music is his story," promises the teaser, which gives glimpses at dramatic fights, epic concerts, parties, and flamboyant costumes. The movie chronicles the formation of the group up until their 1985 performance of Live Aid, which happened six years before Freddie Mercury died of complications from AIDS. Bohemian Rhapsody has been in the works for nearly a decade, but it now finally has a release date: November 2, 2018.
The synopsis for the film is as follows:
Bohemian Rhapsody is a foot-stomping celebration of Queen, their music and their extraordinary lead singer Freddie Mercury, who defied stereotypes and shattered convention to become one of the most beloved entertainers on the planet. The film traces the meteoric rise of the band through their iconic songs and revolutionary sound, their near-implosion as Mercury's lifestyle spirals out of control, and their triumphant reunion on the eve of Live Aid, where Mercury, facing a life-threatening illness, leads the band in one of the greatest performances in the history of rock music. In the process, cementing the legacy of a band that were always more like a family, and who continue to inspire outsiders, dreamers and music lovers to this day.
Even if your only reference to the seminal genre-bending rock influence that is Queen is that head-banging scene in Wayne's World, the film still sounds like a riveting ride of a musical biography that stands on its own.
Rami Malek was cast in Bohemian Rhapsody's lead role almost two years ago after Sacha Baron Cohen, who was originally attached to the part, departed the project due to creative differences. Rami stars alongside Ben Hardy as Roger Taylor, Joseph Mazzello as John Deacon, Gwilym Lee as Brian May, and Aiden Gillen as John Reid. Mike Myers (yes, Wayne himself) has a supporting role.
"When I got this role, I thought, 'Oh my God, this could be a career defining performance,'" Malek explained at April's CinemaCon regarding the immense pressure surrounding his performance. "And about two minutes later I thought this could be a career killer."
"I think the biggest task was how do I approach this insurmountable task," Malek added. "What it was for me is just, as an actor, you look at the humanity of someone, the struggles that he overcame in his life, and throughout the film you'll learn so much about him. What he does in his music is he gives everyone watching this ability to embrace all of their imperfections and still sing as loudly as they can."
It looks like Rami has truly managed to physically transform himself into Freddie for the big screen. As for his singing? The film will showcase a mix of his voice and recordings of Mercury's. "We're going to use Freddie as much as possible and use myself as much as possible," Malek told EW in September.
"Open your eyes, look up to the skies and see..." Bohemian Rhapsody is slated to rock theaters on November 2, 2018.