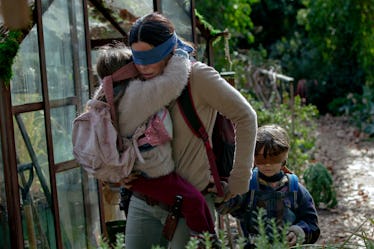 If You Loved 'A Quiet Place,' You Need To Watch Sandra Bullock's New Movie Trailer
Netflix
Sandra Bullock hit her comeback stride this past summer with the all-female Ocean's 8, starring alongside Cate Blanchett and Sarah Paulson. Now, she and Paulson re-team up for a new post-apocalyptic film with the strange title of Bird Box. The film, released by Netflix, will be played as an awards season contender with a debut next month at the AFI Fest in Hollywood. But what exactly is the film about? The Bird Box trailer, released this week, shows a world that's undergone a terrible transformation.
Based on the debut novel of Josh Malerman by the same name, Bird Box takes place in three timelines: A not so distant future, a year or so prior, and five years earlier at the start of "The Problem." Sandra Bullock plays the novel's star and main point-of-view character, Malorie. Sarah Paulson plays her sister, Shannon.
"The Problem," as it is termed, is a slow-rolling disease spreading first in Canada and then slowly southward into the U.S. population. People are abruptly going mad for seemingly no reason, other than the victims insist they saw "something." Visions? Creatures? No one is really sure, but whatever it is, it drives people to barricade themselves in their houses, cover the windows and try not to look at anything too long.
Here's the trailer:
Malerman's novel was initially optioned by Universal back in 2013 before the book's release. Though directors and producers were attached, the project went nowhere until 2017, when Netflix purchased the rights and announced Sandra Bullock would star along with John Malkovich, whose role has not been revealed. David Dastmalchian rounds out the cast as "The Whistling Maurader," the story's main villain.
Here's the Netflix-supplied synopsis of the film:
When a mysterious force decimates the world's population, only one thing is certain: if you see it, you take your life. Facing the unknown, Malorie finds love, hope and a new beginning only for it to unravel. Now she must flee with her two children down a treacherous river to the one place left that may offer sanctuary. But to survive, they'll have to undertake the perilous two-day journey blindfolded. Academy Award® winner Sandra Bullock leads an all-star cast that includes Trevante Rhodes, with Sarah Paulson, and John Malkovich in BIRD BOX, a compelling new thriller from Academy Award® winner Susanne Bier.
Already, critics are comparing it to another post-apocalyptic horror film from earlier this year, A Quiet Place, where one could not make sounds, lest it alert creatures to attack you. This is also a sensory-deprivation horror film, but kicking it up a notch from sound to sight.
Bird Box will premiere at the AFI Fest on Nov. 12, 2018. It joins two other Netflix titles at AFI this year, the Coen Brothers' newest film The Ballad of Buster Scruggs and the episodic series The Kominsky Method, starring Michael Douglas and Alan Arkin.
Bird Box goes into wide release at Christmas time, premiering in theaters and streaming on Dec. 21, 2018.