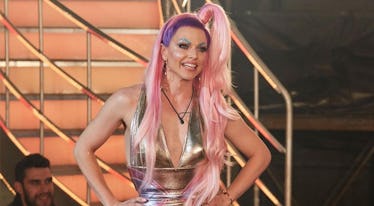 A Bisexual Dating Show Is Coming To E!, Hosted By A 'RuPaul's Drag Race' Star
Channel 5
There are plenty of heterosexual dating shows on the air (The Bachelor/Bachelorette has been on for how many seasons now?), but LGBT-centric dating shows have notably been few and far between. E!'s newest reality show is hoping to change that. The network has picked up a bisexual dating show called The Bi Life, set to premiere this fall, and it will have the perfect host: RuPaul's Drag Race star Courtney Act.
Although this new reality series is called The Bi Life, E! has made clear that its contestants will not only identify as bisexual. The series will also feature pansexual, questioning, and fluid-identifying people looking for love that is not confined by gender. The series will air on E! UK, and will feature a group of bisexual+ British contestants living together in Barcelona. From the sound of the show description, the closest analogue to The Bi Life may be something like The Real World rather than The Bachelor, since it seems like the show will follow a more documentary-style approach rather than force competition with weekly eliminations.
Fronting the bold new series is Shane Jenek, who is better known by his drag queen persona Courtney Act. As Courtney Act, Jenek has become a massive reality television star: he made waves as a contestant on Australian Idol in 2003, but really became a star in the U.S. for making it to the top three of RuPaul's Drag Race in 2014. Earlier this year, Jenek won the 2018 season of U.K.'s Celebrity Big Brother.
On top of his reality TV fame, Shane Jenek is the perfect choice to host The Bi Life because of how openly he has advocated for LGBT+ causes beyond just gay rights. Jenek identifies as pansexual and gender fluid, and has said that he likes to represent the grey area of gender and break down society's gender binary. That is something that Jenek underlined in his statement announcing The Bi Life:
As if this summer hasn't been hot enough, we decided to crank it up another notch with The Bi Life on E! It's high time there was a dating show for the large number of young people today, like me, who are attracted to more than one gender. In 2018 we know that sexuality is fluid and sharing the stories and experiences, the laughter and the love making, of young bi people is so important. So get ready to see the true stories of bisexual singles, who are the largest part of the LGBTQ+ community, but the least known.
The Bi Life will mark one of the few times that reality dating shows have been focused on LGBT relationships. Bravo's 2003 gay dating show Boy Meets Boy only lasted for six episodes, and Logo's recent gay take on The Bachelor called Finding Prince Charming only made it two episodes longer. Actually, VH1's bisexual dating competition A Shot at Love with Tila Tequila has probably been the most successful LGBT dating show, lasting for two seasons and spawning two spinoffs in the late 2000s.
Even better, fans will not have to wait that long at all for The Bi Life to hit TV screens. The series is set to debut on E! UK in October.