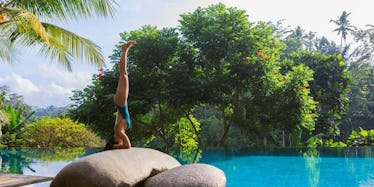 The Best Yoga Retreats In The World Will Give You A Little Taste Of Paradise
If you're a self-proclaimed yogi, then you probably adore the fact that you can literally take your mat with you wherever you go and flow to your heart's content. And while an amazing yoga flow can be done anywhere, at any time, there's no denying that being in a breathtakingly beautiful location would make the experience that much more incredible and memorable. If you're used to doing yoga at a local studio or your shoebox of an apartment, treating yourself to one of the best yoga retreats in the world will surely be an experience you'll never forget.
Now, there's nothing at all wrong with hitting up your fave studio or following a YouTube yoga flow in the comfort of your bedroom — that's my life every day, fam. Real talk: One of my best and most grounding practices I ever did was during a flight layover in a dusty corner of an airport. So yeah, trust me when I say you don't need to be in the most glamorous, luxurious destination ever just to get your zen on, guys.
But, at the same time, I'll be the first one to admit that yoga retreats in tropical, stunning, exotic locations give me a major case of heart-eyes — and, if presented with the opportunity, I would be the first one on a flight to Mexico to flow beneath the sunshine and salty breeze. If you're looking for an unforgettable, downward dog-infused vacation this summer, these six yoga retreats will blow your mind, body, and soul. Happy traveling, yoginis!