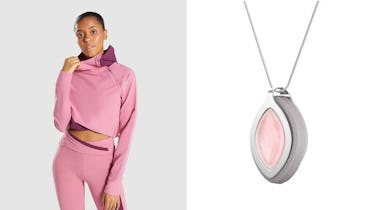 The Best Yoga Deals For Black Friday Are Here To Help You Get Grounded For The New Year
Gymshark/Bellabeat
The most wonderful time of the year is arguably the most reflective. With holidays looming, New Year's Eve will be here before you know it, and I think most, if not all of us, are planning to make the most out of the clean slate 2019 has to offer. 2018 was a lot, to say the (very) least, so even though you'd typically use exclusive post-Thanksgiving discounts as a way to save money on gifts for family and friends, how about treating yourself and taking advantage of the best yoga Black Friday sales of 2018 to initiate a soothing practice you can turn to when the world off the mat gets a little overwhelming? Because, as admirable as it may be to spread joy to our loved ones this time of year, I'd argue that the spirit of giving deserves to be a little selfish sometimes, wouldn't you?
I guess it's a little ironic for me to suggest that aspiring yogis who are eager to channel their inner zen should venture out into the the super chaotic, stress-inducing environment that is any store or mall on Black Friday in the name of meditative practices. But trust me, friends, once you're slipping on a pair of cute yoga pants, and stepping onto that never-touched, ultra pristine mat, you'll thank me, and so will your peace of mind.
What's great about yoga is that each practice is unique. Your yoga journey is going to be different from your best friend's journey, and even the path of your studio instructor. What you bring to the mat is completely up to you and what you're feeling. This goes for equipment as well; you could literally start a practice in an old t-shirt and Soffe shorts on your living room rug, but there's nothing quite like purchasing a fresh pair of stretchy yoga pants, or a block that'll ease you into the more challenging poses.
Are you enticed? I thought you might be. Check out these amazing Black Friday sales fit for yogis of every level, because investing in your practice also means investing in yourself.