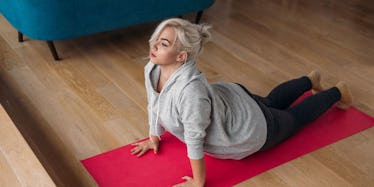 An Expert Reveals The 5 Best Workouts For Your Brain & They're Actually So Simple
It's no secret that working out on the reg benefits you physically and makes you feel strong AF. But the really incredible part about a consistent workout routine is how much it affects your brain and the positive effects it has on your mental health. Plus, the best workouts for your brain are probably exercises you've done before, because they're actually pretty common — so you might have been benefitting your noggin all this time, without even realizing it.
And, in case you're wondering, you don't need to force yourself to work out all day every day in order to reap those benefits. In fact, a recent study published in the journal Neurology revealed that people who exercised, on average, about three times a week over the course of a year showed significant improvements on an array of thinking and speed tests that were designed to challenge the mind. The participants also showed an increased ability in problem solving and information processing, simply from adding those three weekly workouts into their routine. I don't know about you, but this sh*t ~blows my mind~ and yes, that was a brain pun, people — deal with it. Anyway, this new research clearly shows that moving your body in ways that feel good can do truly amazing things for you over time, far beyond the physical results.
What's more, there are actually specific types of exercise you can do to benefit your brain. Dr. Joe Bates, a double board-certified M.D. and bestselling author of the book Making Your Brain Hum: 12 Weeks to a Smarter You, tells Elite Daily that an effective, brain-boosting workout entails any type of movement that demands your full attention. "Effective workouts should always be those you must think through and concentrate on to complete your routine, no matter how long your workout is," he says. "Have you ever noticed that when you really concentrate on something, you have less problems? Why? Because when you're in the moment, you're totally engaged."
Truer words have never been spoken, guys. For full, noggin-nourishing potential, Dr. Bates recommends these five workouts, which will challenge your body and your mind, leaving your brain feeling sharper than ever.