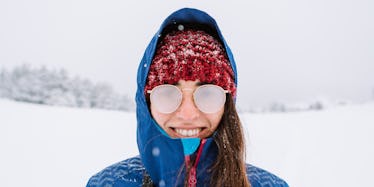 9 Athleisure Accessories That'll Keep You Warm, Cozy, & Trendy In The Winter
Getting myself to work out during the coldest months of the year is basically like trying to convince myself that getting a root canal is actually a good time. With a lot of coaxing and self-motivation, I can ultimately make it happen, but in the end, it's just painful AF and highly regrettable the minute I walk out the door. Yes, I realize that I'm being extremely dramatic, but what can I say? I despise the cold. The only thing that makes it a little more tolerable is shopping for the best workout clothes for winter, so that I'm at least lookin' cute and feeln' cozy during my icy journey to the weight room.
Let's be real: When winter rolls around, it can feel like all of your adorable, strappy sports bras and mesh cutout leggings are permanently hidden by chunky sweatshirts and dull, fleece snow pants. The stylish days of exercising seem to be long behind you, and using a cute outfit as an incentive to get your body moving just doesn't appear to be a thing anymore.
But you don't have to give up all hope for looking trendy during your sweat sesh this season. The next time the thermostat drops uncomfortably low, whip out one of these nine cozy athleisure accessories that will keep you warm without sacrificing style in the process.