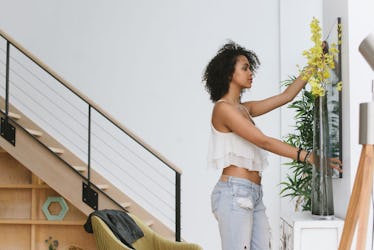 How To Find Inspiration When You Feel Stuck In Your Daily Routine, According To Experts
I'm a creature of habit, but it's not what you think. For example, I need to have a cup of tea every morning with breakfast, but just because the beverage is a constant in my life, doesn't mean I drink the same flavor each and every day. Do I love routine? Absolutely. Structure is great, but it can get real old, real quick. Still, boredom isn't necessarily incentive to turn your life upside down for the sake of making things interesting. When things get dull, the best way to beat boredom is to play off your everyday routine. You don't necessarily have to go out of your comfort zone or take a spontaneous trip to spice up your life; you just have to look at how you do things on a regular basis, and approach them with new perspective.
There's actually a name for when something that initially brought you joy, falls to the wayside, adding on to the pile of material goods and behaviors you've adopted that just lost that once-exciting appeal — and that term is hedonic adaptation. According to Psychology Today's findings, the term was coined by psychologists and refers to the idea that anything that makes you subliminally happy has a shelf life. Eventually, you get used to your smartphone's new camera upgrade, or the spiralizer you just had to have so you could transform every vegetable in your kitchen into noodles. It's not that these things stop bringing you pleasure, but the initial pizazz of a shiny new toy will inevitably fade out. C'est la vie, right? Well, maybe not.
The Conversation reports that a new series of studies, expected to be published soon in the journal Personality and Social Psychology Bulletin, found that the key to beating boredom in your everyday life is actually really simple: do the conventional things, unconventionally.
I know myself, and when I get bored of something, like my hair color, for instance, I either buy a box of dye or set up an appointment at the salon, switch up my 'do, and while it's awesome at first, after a month or two, I'm usually already planning my next color or cut. Not only does this strategy literally suck the dollars out of my pocket, it could potentially do a whole lot of damage to my hair, whereas, if I'd just styled it differently, like in a French braid as opposed to wearing it down, it likely would have the same, exciting effect on my psyche.
So rather than splurging on a new workout wardrobe (but hey, if you've got the money, honey, go for it), try to find new ways of wearing the pieces. If you love having eggs for breakfast, but you're bored of your usual scramble, add some spices or experiment with new recipes. The key to intrigue is perspective, and if you need inspiration, here are a few examples of how to beat a boredom rut when you're over your everyday routine.