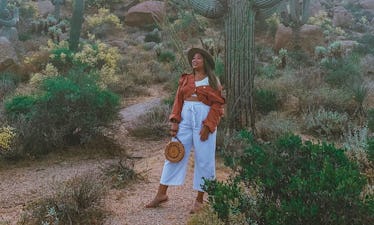 I've Been To 10 Countries This Year & These Purses Made My Travels Seamless
When I'm thinking of what to bring on a trip, no matter how long it is, a purse (or many purses) is always at the top of my list. Purses are a total necessity when I'm traveling. Not only do they help me carry all of the essentials like my phone, hotel key, and wallet, but they also have space for extras like lip gloss, hair ties, and in one case, even an iPad. In my opinion, these are the best travel purses that every frequent traveler should bring on upcoming adventures.
What I love about these purses is not just their versatility and functionality, but also how stylish they are. I really enjoy taking photos when I'm traveling and don't want the hassle — or the scare — of having to put a functional-but-unstylish bag down in order to snap a cute pic. The bags on this list are perfect travel companions because they seriously amp up my travel pics and are great for carrying my necessities on the road.
Whether you're a regular traveler or not, consider bringing one of these bags with you. (Or bring all of them with you — no judgement.) These purses are so good, you won't regret having them take up space in your suitcase for a second.